2012 College Football Previews: Ohio State Buckeyes
By Matt Green
Ohio State is ineligible for postseason play in 2012, all thanks to Jim Tressel, although I'm sure Buckeye fans are pleased with the outcome of the scandal, ironically, as it has landed them Urban Meyer, one of the top coaches in all of the land.
At Quarterback, the Buckeyes are set. Braxton Miller is as good a playmaker as Big Ten playmakers come (there is my one and only shot at the Big Ten, I promise). He led the team in team in passing, of course, although he had his struggles, completing just 54 percent of his passes, but did limit his mistakes, throwing just 4 interceptions in 157 attempts. He also led the team in rushing even though he amassed just 715 yards on the season, a number that will no doubt increase under Meyer and his version of the Single Wing.
As for running back, Jordan Hall could be out for awhile, so the running back position is kind of up for grabs until Hall returns. Carlos Hyde, who had a team-best 5.3 YPC average in 2011 will probably get most of the touches, although Rod Smith is also a candidate to get some carries. Smith has more speed, so I firmly expect him to get more carries, because we all know Urban loves him some speed. So, even with Hall out, the Buckeyes should still be fine in the backfield.
Receiver is interesting, as none had more than 14 catches a year ago, but Braxton Miller was just getting his feet wet. He should be much improved this year and will have guys like Devin Smith and Corey Brown to get the ball to. As mentioned, neither had a huge year last year, but both are very talented and have a year with Miller under their belt. They do lack great size, though, but their lack of size is made up for with Jake Stoneburner. A 6'5" beast of a TE who, after some offseason legal troubles, returns for an offense that desperately needs a go-to guy that they can rely on in every part of the field.
One of the most interesting developments for this team is Reid Fragel. He made a few catches as a TE a year ago, will slide in at right tackle, and will be expected to be a huge contributor over there in the Meyer Single Wing. Mewhort will be the left tackle, so there will be no problem there. Andrew Norwell is another massive man that will slide in at left guard. Michael Brewster is gone at center so Corey Linsley will step in as the leader of the group, and he will be the only lineman that stands below 6'6", as Marcus Hall will take over the right guard spot.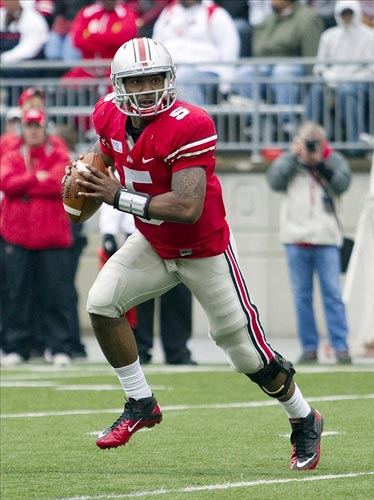 More size is contained on the D-Line for the Buckeyes, as Johnathan Hankins was a monster in 2011 as a defensive tackle, while John Simon comes off the edge as the team's go-to pass rusher. Garrett Goebel is no doubt my favorite Buckeye of all, just a monster at the nose with an outstanding motor. Finally, Adam Bellamy and Nathan Williams battle for the other end position, but they will most likely end up splitting time out there.
Ohio State has a track record of moving safeties to linebacker to try to inject more speed to the defense. The same has been done with Ryan Shazier, who moves to linebacker and will most likely be the best one OSU has to offer. Curtis Grant steps in to the middle after limited experience a year ago. Finally, the beastly Etienne Sabino fills the other LB spot. He is a specimen, but needs to find more consistency to fulfill his high potential.
CJ Barnett will no doubt hold down one safety spot, and is probably the best the Buckeyes have to offer in their defensive backfield. Christian Bryant is the other safety, and, despite being undersized, the guy is just a playmaker, and he has Orhian Johnson there to help him out. Bradley Roby and Travis Howard are the corners, and are apparently very popular and are expected to be quite successful this year, although I am not sold on them.
2012 Schedule:
vs Miami (OH)
vs UCF
vs Cal
vs UAB
@ Michigan State
vs Nebraska
@ Indiana
vs Purdue
@ Penn State
vs Illinois
@ Wisconsin
vs Michigan
Few teams have as easy a schedule as Ohio State. I really see only 4 lose-able games for the Buckeyes, and two of those (Michigan, Nebraska) are in the Horseshoe. Let's just be honest, they will lose to Wisconsin, and probably to Michigan State. I'm betting on a 9-3(5-3) year for the Buckeyes, with the worst possible being 8-4(4-4), and the best being 11-1(7-1). Good luck to coach Urban Meyer because, even though I am not a Buckeye fan, I'm a Meyer fan for life, or until it is inevitable found that he, like every other coach in America, broke NCAA violations in some aspect of his program.