Anquan Boldin and the Concept of NFL Revenge
Here's your stat of the week, and something to keep an eye on over the remainder of the season. The Baltimore Ravens wide receivers combined for 15 receptions for 215 yards. Anquan Boldin alone racked up 13 receptions for 208 yards in the 49ers victory over the Packers. Especially with Michael Crabtree out for the year, the trade that sent Boldin to the 49ers for only a sixth-round pick seems primed to go down as the most important personnel move of the entire offseason.
Colin Kaepernick found Boldin early and often, especially on crucial downs and distances– four of Boldin's receptions came on third or fourth down, while nine resulted in first downs or touchdowns.The pair found some instant chemistry, and it was that, more than anything else, that led them to victory. The Packers actually did a very good job of shutting down the 49ers powerful running game, limiting Frank Gore to only 44 yards, and preventing the read-option from going anywhere, the few times the 49ers tried it. Their offense did just fine against the punishing 49ers defense, as well, consistently victimizing NnamdaAsomugah and the nickel secondary – it was an impressive performance from Aaron Rodgers, and an impressive debut for rookie running back Eddie Lacy.
But Boldin's coming out party trumped everything else.It was the first time a 49er had over 200 yards receiving since another #81, Terrell Owens, did it back in 2000 in Jerry Rice's last home game as a 49er. It was the most passing yards for any one 49er since the immortal Tim Rattay did it in 2004. It was just a stunning performance, unexpected and somewhat unprecedented – Kaepernick had only once surpassed even 300 yards passing, and that was in the furious comeback during the Super Bowl. Add this weapon to the already potent 49ers team, and you have a team posed to avoid the Super Bowl Losers Curse, such as it is.
"They kept letting him get open and, I mean, he went out there, he played like a grown man today," Kaepernick said of Boldin's day. "He made plays even when he shouldn't have. If he plays like that, he is going to get the ball even more."
Boldin returned the complements for his new quarterback, saying "I keep telling people how good of a quarterback he is, everybody looks at how athletic he is and that he's a 'running quarterback' but he is a quarterback first. Being able to run is just a bonus for him."
With the Ravens, at times, struggling to get any consistency in the passing game, the decision to let Boldin go over a matter of $2 million and a sixth-round pick might come back to haunt them over the course of the season.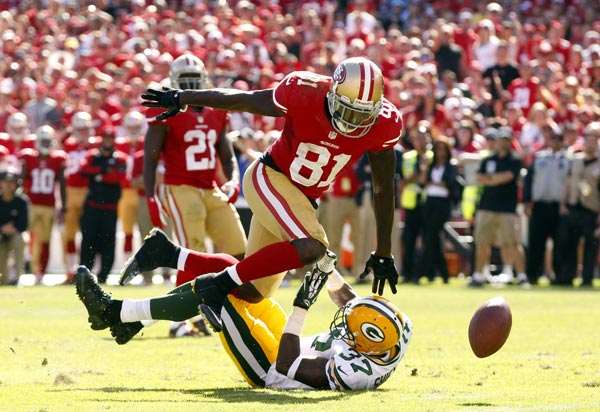 Other observations from the first week of football:
The Seahawks looked more like they did at the beginning of last season, when they were still working Russell Wilson into their offense, than they did at the end, when they looked like they could beat anyone, at anytime, anywhere. The problem with the first week of the season is that there's a significant lack of context, especially playing against a team like the Panthers, who I have pegged to take a giant leap forward. Was it a slightly below-expectations performance, or a gritty, toughed-out win over a difficult team on the road? It wasn't pretty, especially in the first half, but they made the necessary adjustments at halftime. Wilson finished 25-of-33 for 320 yards after the sluggish start, including the game winning touchdown with less than three minutes to go. Perhaps it was the worst the team has looked in their past ten or so games – but they still came out with a win; doesn't matter how pretty it was. Hopefully, their second half momentum carries over into next week's game against a team with just as ferocious a front seven as Carolina – the San Francisco 49ers.Should be a good one.
Nice to see new head coach Mark Trestman do well in his return to the NFL, leading the Bears to a 24-21 victory over the Bengals.The Bengals were very sloppy, and the Bears were able to take advantage. The offense didn't seem that much different from last season, if we're honest – still a lot of Cutler-to-Marshall – but a major difference could be felt up front, with the offensive line.Yes, they weren't perfect – far from it – but they kept Jay Cutler upright. That only happened twice last season, and offensive line play has been a weight around the Bears neck for years now. It's even more impressive considering how potent the Bengals front four should be this season. There's room for improvement there, but all in all, Bears fans have to be happy with Kyle Long and the rest of the revamped line.
How about those Jets?It wasn't pretty, but give credit to Geno Smith and his teammates for sticking in this one to the very end. Smith was 24-of-38 for 256 yards, with one touchdown and one interception. Even when the Buccaneers took a 17-15 lead late in the game, there wasn't any panic. He hit Kellen Winslow with a long pass over the middle with no time outs, and had the presence of mind to get the spike to stop the clock off without too much hassle. Yes, the comeback would not have happened without Lavonte David's late hit, but give some credit to the Jets – very few people even predicted they'd be in this game, much less win it.
Know enough about football to bet on it? If so, check out williamhill betting online.