College Football 2012: Early Observations
By Matt Green
Before the weekend, I had said that this would be a relatively uneventful Saturday. That's the beauty of college football and the current system: there is no such thing as an uneventful Saturday. So here's 15 things we learned:
#1 THE BIG TEN IS STILL AWFUL, AT BEST
Last week, I said the Big Ten was bad, as it turns out, I was overrating the Leaders and Legends. The Big Ten is AWFUL. Ohio State survived at home. Wisconsin lost on the road scoring only 7 points. Nebraska lost on the road, albeit to a decent UCLA team, but still got picked apart defensively. Illinois got beaten down by Arizona State in the desert. Penn State lost to Virginia. Michigan baaaaarely beat Air Force. Iowa scored just 6 points while losing to Iowa State. The only good things to come out of the weekend for the Big Ten was the fact that Purdue almost beat Notre Dame in South Bend and Northwestern moved to 2-0 with a win over Vandy.
#2 THE PAC-12 MAY BE BETTER THAN I THOUGHT
After an underwhelming Week 1, the Pac-12 had a very nice turnaround in the second week. Other than the teams that were obviously going to be bad (Utah, Colorado, Washington State) and the team that was facing an unwinnable game in Baton Rouge (Washington), the other 8 teams did very nicely. 6 wins over the weekend against fellow BCS-conference opponents, including Nebraska and Wisconsin and Illinois and Oklahoma State, making me wonder if in fact the Pac-12 is better than the Big Ten.
#3 THE SEC NEWCOMERS ACQUITTED THEMSELVES NICELY
Neither won, but both Texas A&M and Missouri looked like they belonged in the SEC. A&M should have beat Florida, but gave way to the Gators in the end, losing by 3 in a hard-fought SEC-typical football game. Missouri was leading for much of the game, before mistakes and Georgia's talent took over. Both A&M and Missouri have talent now and more and more flowing in with the new move to the SEC. Right now, people will say these guys don't belong, but they clearly do, and will just continue to get better moving forward.
#4 POOR SAVANNAH STATE
The title pretty much says it all. You kind of have to feel bad for those guys.
#5 AS I MENTIONED BEFORE, THE SEC IS RELATIVELY WEAK OUTSIDE OF BAMA & LSU
I know Tyler Wilson went down, but not until the 2nd half, and Arkansas still managed to fall to Louisiana-Monroe, a team that has never beaten a ranked team and have never made a bowl game. Right now, in all honesty, Tennessee may be the 4th best team in the SEC, this weekend will tell.
#6 I'VE SAID IT BEFORE: KENJON BARNER IS GOOOOOOD
Kenjon Barner ran for 201 yards this weekend, and it was against a relatively decent FBS opponent. This guy doesn't get the credit he deserves because of the talent around him, but make no mistake, he is as good as LaMichael James ever was, if not better.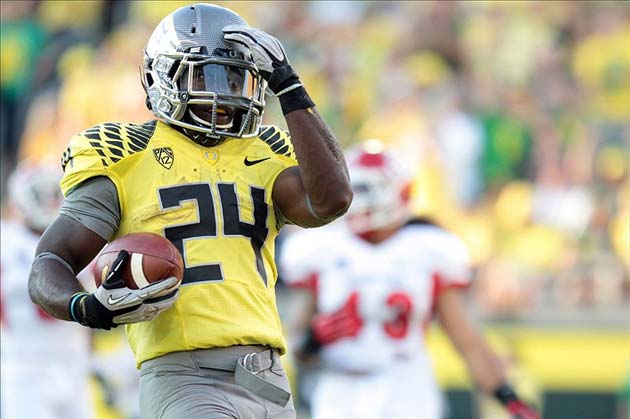 #7 THE ALABAMA VS LSU GAME WON'T BE 9-6 or 21-0 THIS YEAR
Both offenses of the Tigers and the Tide are far better than they were a year ago. LSU smashed Washington, racking up 41 points in the process. I know Washington's defense is not good, but still, you can see the vast improvement especially at QB with Mettenberger. On the flip side, McCarron is taking over this offense and is really becoming a top QB, and when you add the bevy of backs in support for the Tide, this offense will just continue to improve.
#8 MICHIGAN HAS A TON OF ISSUES ALL OVER THE FIELD
It's not just on offense, and it's not just on defense, it's all over the field for the Wolverines. Their offensive line is bad, their defensive line is getting blown away all the time, and their secondary is anything but solid. They have only 3 offensive playmakers, and Toussaint may not even be considered one, so maybe just 2. It's all up to Denard Robinson, and he can't do everything alone. It's going to be a long year in Ann Arbor at this rate.
#9 STANFORD HAS A CHANCE TO BEAT USC THIS WEEK
A week ago, I would have said that Stanford was going to get blown out this week, but based on this weekend, I'm not so sure. USC struggled once again to defend the pass, although everyone knows how much I love Cuse QB Ryan Nassib. But, if those struggles continue, Stanford stands a chance this weekend. Obviously, Matt Barkley and that offense will get their points, but Josh Nunes has the talent to match them point-for-point if they can avoid mistakes.
#10 COLORADO SCHOOLS ARE IN BAD SHAPE
Last week, Colorado lost to Colorado State in what was a decent game, but it turns out, between bad teams. Colorado lost to the mighty FCS Sacramento State Hornets this weekend, and Colorado State lost to those pesky FCS North Dakota State Bison. Ouch.
#11 BRIAN KELLY STILL CAN'T MAKE UP HIS MIND
I know what they said, that Golson was a bit shaken up, but nobody's buying that, right? Golson had thrown for 289 yards against a decent Purdue defense, but Kelly still went with Tommy Rees to engineer the game-winning drive for the Irish. Point is, if Rees is capable of taking over for the final drive, why not the whole game? Brian Kelly just baffles me sometimes.
#12 I HATED ON KANSAS STATE, BUT NO LONGER
K-State dominated Miami this weekend, and while Miami is not great this year, they made them look like an FCS team. The defense was the worry going in, but they absolutely shut down the speed of the Hurricane offense. Collin Klein was back to his old form after taking Week 1 off, and he got a ton of help from the guys around him. The Big 12 has 5 teams that can legitimately win the conference. Should be fun.
#13 I OVERRATED WISCONSIN, OBVIOUSLY
I had the Badgers just outside the Top 10 when the season started, but wow, was I wrong. I simply assumed that with another veteran QB coming in and Montee Ball around and the fact that they reload that offensive line every year, that they would be better. They aren't.
#14 IT'S GOOD THAT A PLAYOFF SYSTEM IS COMING
Because, when that playoff system comes, the word is that strength of schedule will be a huge factor, so it'll be nice to get away from Florida State-Savannah State and Alabama-Western Kentucky. Although, props to Bama for playing a good (or what was supposed to be good) team.
#15 BYU HAS A LEGITIMATE SHOT AT GOING UNDEFEATED
BYU has to sidestep a few good teams the rest of the way, but they have looked great through 2 weeks. They now have no QB controversy and they have enough playmakers to be able to put the ball in the end zone consistently. Also, their defense is flying under the radar, but is easily a Top-20 defense.
Check back next week for more! Also, check out my weekend preview every Thursday at fallsaturdays.tumblr.com