Fantasy Football Teams Unite: 5 Reason to Draft With Friends
By Jim Holden
While gearing up for fantasy football this year, you most likely belong to a league. You know all of them, and harbor spite for plenty because of last year's losses. You lord over those whom you dominated.
Player Research
So prepping for the draft has probably consumed your life since February. Among work, checking out funny animal videos at Break.com, watching NFL victories on YouTube, and subsisting on a diet of takeout, frozen food and beer, studying every player in the NFL has grown to be a top priority. Right Guard for the Browns? John Greco. Nose Tackle for the Lions? Trick question — they run a 4-3, not a 3-4.
Drafting Destination
You know your selections, now where to draft? Go the traditional, reclusive route, and do it online from the comfort of your home, apartment or the bar down the street with free Wi-Fi. Sure, you completely alienate yourself, but it's the draft and depression it's not. Alternatively, get the league together and draft in the same room. All you need is a place with comfy seating, a reliable Wi-Fi signal, a good pizza place nearby and a convenience store within walking distance that sells beer. Keep in mind drafting in-person is both more fun and tactically beneficial than doing it remotely. Here's why.
1. Human Interaction
Human interaction is almost universally regarded as being inherently good. Alienation, whether you're an ardent Marxist or just someone who simply likes to see people for the sake of feeling human, can be unhealthy. This isn't World of Warcraft. You're not entering into a fictional world that is only interrupted when you hit the hay or one of your friends calls to ask if you've seen the Leeroy Jenkins video on YouTube (because you're really into that game).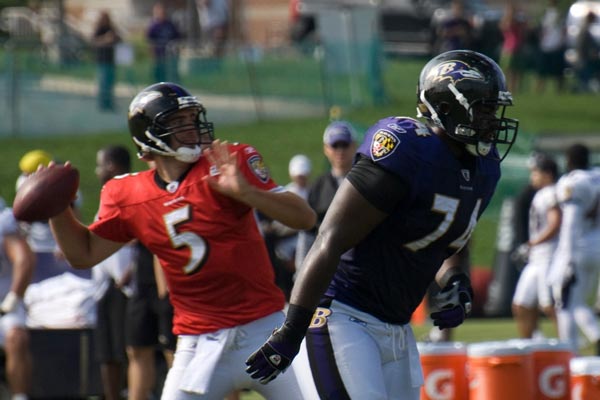 2. Drinking Buddies
Drinking during the draft is a necessity. Drinking alone, however, is not. Plan the draft to be a party with your buddies, not a sad and solo drinking fest.
3. The Opposition
Meeting up in-person will also give you the chance to get to know what you're up against. Examine notes and pull up statistics online with your smartphone. You can take notes on strategies and learn more about opponents from your buddies.
4. Psyche Outs
As Sun Tzu said, "All warfare is based on deception." Remember this as you explain to the newbie why the Raiders defense will prove to be unstoppable this year.
5. Trash Talk
While there may be a certain art form to Internet banter that has certainly evolved from the days of AOL chatrooms, ripping on other members of the league face-to-face will get actual laughs. On top of burns and friendly humiliation, it is far more satisfying to hear laughter than to see "lol" or a slew of "ha's" on a screen.