Fastest Rugby Star Inks With Lions
By Mei Ling Sui
Carlin Isles is now part of Detroit Lions which may just set the Lions roaring and that is what they need to do. The team may be out of reckoning at present but that has not stopped it from recruiting future prospects. Isles is in the team's practice squad, says Chris McCosky of DetroitNews.
Football to Rugby
The former athlete and football player drifted into rugby in 2012. Miles Craigwell, who himself made a changeover from football to rugby, egged Isles on to take up rugby too. Isles started playing rugby with Gentlemen of Aspen RFC which was located at Aspen, Colorado.
In the Team
Rugby media did not take long to notice Isles' style and play. He was given the nomenclature "The Fastest Man in American Rugby" in 2012. The U.S. national development team Atlantis inducted him in July, 2012 and he played at the Victoria 7s tournament.
Scores and More Scores
Isles made his debut in October 2012 for the U.S. national sevens team at the Gold Coast Sevens. Coming in as a second-half substitute in a game against New Zealand, he scored a try almost immediately after he entered the pitch. He went on to score two more tries overall in the tournament. By achieving this feat, he became a leading scorer for his team. He started scoring regularly at IRB Sevens World Series during 2012-13.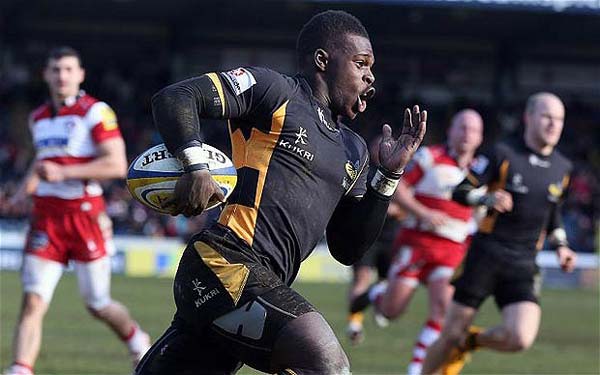 Deserved Recognition
People were quick to realize that here was a man who could outrun anybody in the country. The ubiquitous YouTube helped him achieve more prominence when his video that was titled "Carlin Isles. Olympic Dream" was posted on December 9, 2012. The video had to go viral and as of today, it has been watched by an impressive 5,175,155 people. That is a pointer towards his popularity which has not stopped growing. The IRB Commentator Nigel Starmer-Smith keeps heaping praise on Isle and he has not indulged in any hyperbole when he concludes with the words, "I've never seen anyone that quick on a rugby field ever, XVs or Sevens.
I don't think anyone else has either." His words still hold true after a good year has passed. 2016 summer Olympics may see him playing for the U.S. team in Rio de Janeiro, Brazil where rugby seven is scheduled to be introduced for the first time in Olympics.
Fast inDeed
Just how fast is Carlin Isles, anyway? It took him only 4.22 seconds to complete a 40 yard dash in the tryout with Detroit. He is strong at 5'8" and 166 pound. To those who worry about his relatively small stature, his reassuring words are, "I hadn't worked on my football skills in about four or five years, but I was catching punts with one hand and they had me doing those circle drills and I was catching the ball. I thought I'd be a lot worse." He further explains to McCosky, ""You see rugby?" I can take the pounding for football without a doubt. I am tough and tenacious – the pounding will be no problem."
And, that says it all!
Written By:
Mei Ling Sui works with an advertising firm and manages digital content for their clients. Along with that, she also owns a review blog, the latest post on which is the review of Super Bowl Hotel Packages. Her nyc-seo skills are also great.