Geno Smith or Michael Vick?
By Ron Leyba
The New York Jets, led by head coach Rex Ryan, have picked up former Atlanta Falcons and Philadelphia Eagles quarterback Michael Vick. Former Jets QB Mark Sanchez was later signed by the Eagles to a one year deal, so the two teams essentially swapped backup quarterbacks.
So first off, who got the better deal? Most would say the Jets in a heartbeat; I mean it's Mike Vick, right? Not so fast. Take a step back and look at each player's (Vick and Sanchez) situation. Vick, who will be 34 by the time the 2014 season starts, is once again coming off of an injury-laden season. He played well (86.5 passer rating, 8.5 yards per run), but still proved to be a turnover machine (3 picks and 4 fumbles in six starts). Throw in the fact that he injured his hamstring for a few weeks, and it's a lot more obvious why Vick did not get picked up by a team that needed a starter.
Running quarterbacks, especially smaller ones like Vick, tend to age quickly. It is safe to say that Vick will no longer be his old 2006-self (or even 2010 for that matter), and inserting him into a team like the Jets (who had a terrible offensive line in 2013) certainly does not help. Mark Sanchez is 27, has shown short periods of greatness, and is heading to a team that did wonders for a guy like Nick Foles. Rex Ryan is a good coach, but he is certainly no Chip Kelly. In my opinion, Mark Sanchez on the Eagles is a bit better than Mike Vick on the Jets. With that being said, I still believe Vick would play better as the starter for the 2014 New York Jets.
The 2013 rookie Geno Smith was, to be honest, terrible. Take a look at his stats: 12 touchdowns, 21 interceptions, 66.5 passer rating. Despite the horrible 2013 performance, many still see him as a starter in the NFL, possibly on a run-heavy offense to minimize his turnover-happy play. Wait a minute, the Jets are a run-heavy offense. So the simple solution for New York is the start Michael Vick, right? Wrong.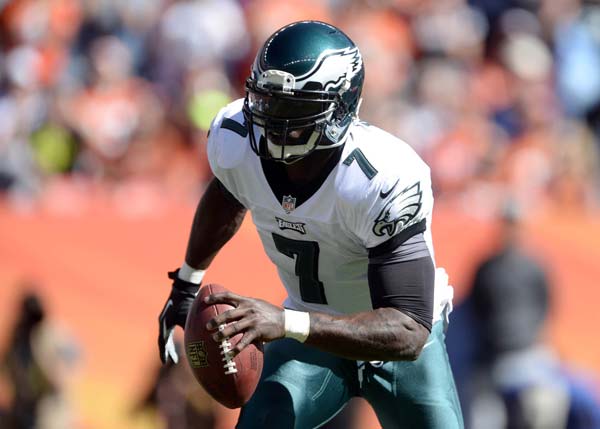 A majority of Jets fans probably want to see Michael Vick starting for the Jets next season. A majority of football fans don't know a thing about how the league works. Think about it like this: the New England Patriots are a lock to win the division for the next two or three seasons (barring any big injuries). In the league today, a team has to be at least 9-7 to make the playoffs, and the Jets are going to have a tough time winning at least nine games even with Michael Vick. So why not start Geno Smith the entire season and let him get some more experience in? If he plays like he did in 2013, then start looking for a new quarterback, but if he has a decent season (85+ passer rating), than starting him paid off. He could come back in 2015 and lead the team to the postseason.
Okay, okay, I know you Jets fans really want to win now. With Geno Smith you can. Smith has a far better chance of breaking out than Vick does (at this point in his career); throw in Eric Decker and the Jets could be a playoff team next season. There is a lot more upside to letting a former second-round draft pick start than having a 34-year-old like Michael Vick play. If Smith works hard this offseason, there is no reason why he can't be a Top 20 quarterback next season. Smith has the weapons to get the job done. Chris Ivory, Bilal Powell, Decker, Jeff Cumberland, and Jeremy Kerley are all solid players on offense, and New York's defense is above average.
The difference between the Jets and the playoffs lies in their division. If they can play better than 3-3 against the AFC East, they can sneak into the playoffs at 9-7 or 10-6. In order to do that, they need to stop splitting the season series with teams like Buffalo, and even Miami. If Geno Smith throws more touchdown passes than interceptions in 2014, a 9-7 finish is not out of the question. Remember, the AFC as a whole is a lot weaker than it once was. Looking at the 2014 Jets schedule, the only tough non-division match-ups they have are Denver and Green Bay. What about San Diego, Chicago, Pittsburgh, etc.? The Jets have what it takes to beat those teams, even with Smith at quarterback.
Take a look at this scenario: the Jets start Mike Vick in 2014. Vick plays well and takes New York to the playoffs. What then? Do you honestly think that the New York Jets can make it to the Super Bowl? I just don't see them beating a team like New England, Indy, or Denver on the road in the playoffs, and if you think they can beat a team like Seattle or San Francisco in the Super Bowl, you're crazy. Then after that, what about Vick? Do you think he can be a playoff-caliber quarterback into his late thirties? I don't think so, and I honestly don't think he'll even be able to stay healthy enough to lead a team to the postseason.
So the best thing to do next season would be to start Geno Smith. Let the man get some experience, and make a Super Bowl run when he (and the entire team) is ready. Until then, a playoff berth isn't worth much, as the Jets are not a championship-caliber team yet. Could I be wrong? Certainly. Geno Smith might end up as a career backup quarterback, but I'd like to see what Rex Ryan can do with the young QB. With a chance to develop a team around Geno Smith, Rex Ryan could mold the Jets into a contender. By the time that happens (probably in the next few seasons), New England will no longer have Tom Brady, and the division will be up for grabs. Could Smith be a solid passer by then? Definitely. Will Mike Vick be playing by then? Probably not.
For more NFL news, rumors and updates, visit www.fantasyfootballoverdose.com today.