HBO Uses Atlanta Falcons for Hard Knocks
This year, HBO's fantastic documentary series, Hard Knocks, will be coming to Atlanta to cover the attempted rebuilding effort for the Atlanta Falcons.
There were rumors and scuttlebutt that the NFL would try to get the St. Louis Rams to be on the show to document Michael Sam's attempt to make an NFL roster. The thought was that the NFL cancelled Oprah's planned documentary in order to control the story themselves.
Instead, we're getting the Falcons, and that could be a very interesting team in and of themselves. After all, it was only two years ago that Atlanta was in the NFC Championship game, driving for a chance to go to the Super Bowl. Watching how they recover from the 4-12 disaster that was their 2013 season should be fascinating.
"We are excited about the opportunity to give our fans a behind-the-scenes look at what it takes to prepare an NFL team for the rigors of a 16-game regular season and beyond," Falcons owner Arthur Blank said.
There should be plenty of interesting storylines for HBO's cameras to capture.
You have Julio Jones, trying to return from the injured foot that cost him the majority of the 2013 season. How quickly will he be at full speed? Will he need extra time to recover, and have to sit out of practice, or will he be ready to get into game action right away?
Who will replace Sean Witherspoon? Witherspoon tore his Achilles on Tuesday, leaving a gaping hole in Atlanta's linebacking corps-Witherspoon was arguably the best player on Atlanta's defense. JoploBartu, an undrafted free agent from 2013, played decently in relief of Witherspoon last season. Will he be able to hold down Witherspoon's spot in the lineup for an entire year?
Paul Soliai is a free agent coming in from Miami to shore up Atlanta's defensive line. He should take over the nose tackle position. What will Corey Peters' role be in the new front?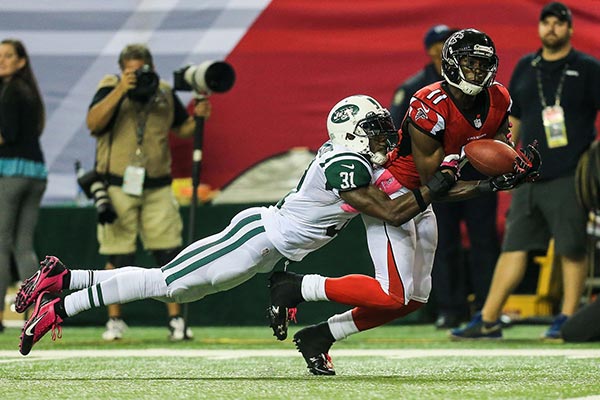 You also have the prerequisite position battles. OsiUmenyiora is the only sure starter in a linebacking corps that's in flux. Expect to see plenty of Glenn Pires, the linebacking coach, as he tries to decide between Kory Biermann, Jonathan Massaquoi, StanslyMaponga, Paul Worrilow and Akeem Dent to form the left side of his corps.
You also have the battles at the bottom of the roster, as undrafted free agents try to scramble their way onto the final 53-man roster. While the Falcons brought in Devin Hester to handle kick returns, they also have some interesting special-teams aces coming in as UDFAs, including Toledo's Bernard Reedy and Kansas State's Tramaine Thompson. There could be an interesting battle there.
Hard Knocks is always an interesting show, but there's a vocal percentage of fans who'd rather see it be an interesting show about someone else's team.
Jeff Schultz, blogger for the Atlanta Journal-Constitution, is calling the Falcons a "clown show", saying the presence of HBO's cameras will cause distractions and focus issues. He calls it the second-worst decision the franchise has made in recent years, after hiring Bobby Petrino.
The problem is, there's no evidence that the presence of Hard Knocks has any negative impact. Grantland's Bill Barnwell looked at the impact Hard Knocks has had on teams back in 2012, and found no evidence of a so-called "Hard Knocks curse". The Falcons' on-field fortunes in 2014 will have more to do with how Matt Ryan and Julio Jones perform than the presence of an extra camera crew.