NFL Football: 2012 Quarterback Rankings
Drew Brees has re-set the bar. The franchise-tagged quarterback came to a deal with the New Orleans Saints, signing a five year, $100 million contract. The average value of $20 million per year makes him the highest paid player in NFL history. The previous record holder? Michael Vick's six year, $100 million contract. Quarterbacks aren't just the faces of their franchises, they are breaking the banks and forcing owners to dig deep into their pockets. Brees had a 37 million dollar signing bonus. That makes his total earnings this year $40 million, by far the highest one-year earnings in the NFL. It's a truly astounding amount of cash.
And he's worth every penny of it.
It seems that you can't be an elite team in the NFL these days without an elite quarterback. The last team to win a super bowl without a top caliber quarterback? You probably have to go back to the 2002 Buccaneers and Brad Johnson, and Johnson actually made the pro bowl that year. The super bowl winning quarterbacks of the past decade have been the cream of the crop: Brady, Roethlisberger, Brees, Rodgers, and both Mannings. Maybe the 2000 Ravens could have ridden a world class defense to the top of the league, but for the past decade, the NFL has been an arms race.
News of Brees' contract makes it a good time to go and look at the quarterback situation for the teams, and to try to rank how the quarterbacks could perform this year. Which quarterbacks will be leading their teams to glory, and which teams will be trying to drag their quarterbacks through, and rekindle memories of the '02 Buccaneers or '00 Ravens.
Elite Quarterbacks—the best of the best
Tom Brady (New England)
Drew Brees (New Orleans)
Aaron Rodgers (Green Bay)
Peyton Manning (Denver)
That's….that's quite a list, right there. We have the reigning NFL MVP, and three first ballot hall of famers. I don't include Rodgers in that list quite yet, because he's only had four seasons as a starter – assuming nothing horrible happens in the next couple years, he will join the other three in Canton. Brady and Brees show no signs of slowing down, so let's take a look at Peyton Manning.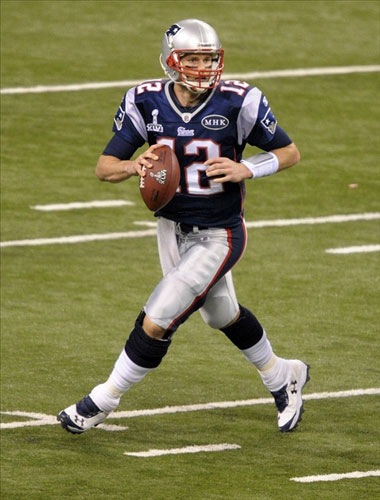 He missed all of the 2011 season, and he was showing some signs of decline in 2010 – does he still belong in this rarified air? His arm strength doesn't appear to be all the way back yet, but what's made Manning so great over the years isn't so much his laser, rocket arm, but his accuracy and decision making – and both of those, from all accounts, are as good as ever. There's a lot to like about Denver, too – they were a playoff team last year, after all, and Manning is a definite improvement over any quarterback they had last year. The bottom line, though, is this: I'm not going to bet against Peyton Manning until he shows he can't perform on the field again. And, rather than create a sub-category just for Manning, to hedge my bets, I'm going to go out on a limb and place him in the category he's been in since he debuted in the league.
Good quarterbacks – Not $20 million men (or they shouldn't be, at least), but you can feel good about your chances if your team has one of these men behind center. There are no quarterback controversies here.
Matt Ryan (Atlanta)
Eli Manning (NY Giants)
Ben Roethlisberger (Pittsburgh)
Michael Vick (Philadelphia)
Matt Schaub (Houston)
Tony Romo (Dallas)
Philip Rivers (San Diego)
Cam Newton (Carolina)
A bit of a motley list here – some people might question why Manning and Roethlisberger are here, rather than a rung up, with the elite quarterbacks. After all, they both have a couple Super Bowl rings. Both of them have had more playoff success than Matt Ryan, who I have above them. However, I think Matt Ryan is going to take another step forward this year. Every season, with the possible exception of his sophomore slump in '08, has seen Ryan improve. You can point to the playoff records all you want, but we're trying to take a look into the future here, not the past. You don't get credit for a win in 2012 with a Super Bowl ring from the past, and an 0-3 playoff record doesn't mean anything for this year, either. Ryan, like fellow members of this list Matt Schaub and Tony Romo, get a lot of flak for poor playoff experience, but this ignores the quality of their play in the regular season, and the relatively small sample size of post season play. Ryan hasn't played badly in any of the Falcons playoff losses, and I feel he'll take another stop forward this year.
At the other end of the spectrum, I already have Cam Newton joining this group in his second season. Newton's legs make him incredibly valuable, but also incredibly injury prone – see Michael Vick or, going back into history, Steve Young for other examples. Both Vick and Young, as they got later into their careers, began relying more on their arm than their legs, and Newton will eventually need to learn to do that, too. But for now? Keep him in the shotgun nearly all the time – he was above average just passing when he was in the shotgun in 2011 -- and add that to a full offseason under his belt, and it adds up to another step forward, and possibly a winning record in the Carolinas.
Above Average Quarterbacks – Here we begin to have some of the quarterback controversies in the NFL begin to pop up, as we have young QBs who haven't taken that next step yet, and aging QBs holding on for one last run.
Andy Dalton (Cincinnati)
Carson Palmer (Oakland)
Joe Flacco (Baltimore)
Matt Cassel (Kansas City)
Matt Hasselbeck (Tennessee)
What's wrong with Joe Flacco? He took a huge step backwards last year, dropping down from a borderline good quarterback down to the average level. Touchdowns went down, interceptions went up. He had the lowest yards per attempt in his career. He's got a world-class running game and a fantastic defense – he is, at the moment, the weak link on the Ravens squad. There's room for hope that he'll not only improve over last year's off-year, but actually take that next step forward, though. His main weakness is his pocket presence. Flacco simply holds on to the ball too long, resulting in a high number of sacks, throw aways, and other negative plays. It's not his physical tools – it's just a matter of getting the ball out quickly, and improving decision making under pressure. If he can make that step, he'll join the next rank up.
The Titans have a decision to make. Matt Hasselbeck was rejuvenated in a Titans uniform, but he's not a spring chicken any more – he'll be 37 this season. He's not going to improve anymore. The Titans took Jake Locker high in the draft, and at some point, they're going to need to hand the reigns over, and see what they have. They will be better in 2012 if Hasselbeck is their starter – but for 2013 and beyond, it might be better to hand it over to Locker sooner, rather than later.
Average Quarterbacks – Note that "average" doesn't mean "replaceable". You can't just go out and get an average NFL quarterback –you're not going to have to limit your offense if you have one of these guys. That being said, there's room for improvement.
Josh Freeman (Tampa Bay)
Jay Cutler (Chicago)
Ryan Fitzpatrick (Buffalo)
Matthew Stafford (Detroit)
Matt Moore (Miami)
Robert Griffin (Washington)
Alex Smith (San Francisco)
Andrew Luck (Indianapolis)
A note – I think Andrew Luck will be, in a few seasons, better than RGIII, though both will probably have good careers. That being said, this list is for 2012 only, and Griffin just has more weapons available right away than Luck does, with Santana Moss, Pierre Garcon, and Josh Morgan likely to outperform an aging Reggie Wayne. Just being average in your rookie NFL season is something to be proud of, however, and I think both Luck and Griffin will give their respective teams reasons for hope this season, if not a winning record.
Nestled between them is Alex Smith, and here comes the interesting section. The lead of this article suggests that you need an elite quarterback to win the Super Bowl in today's NFL, but both Harbaugh-led teams are trying to disprove that with ferocious defenses backed up by middling quarterbacks. Can Smith perform like he did last year? Well, consider only two quarterbacks in NFL history have ever had a better interception rate than Smith did last year – it turns out it's hard to only throw interceptions on 1.1% of your throws. That being said, they've given Smith the best selection of weapons he's ever had as a quarterback. If he can take that step beyond game-manager, the 49ers might just make next year's version of this article a mea culpa.
Below Average Quarterbacks – Now we're getting into the teams that have troubles. These teams will have a hard time even making the playoffs with these quarterbacks, much less threaten for a championship.
Christian Ponder (Minnesota)
Kevin Kolb (Arizona)
David Garrard (Miami)
There's a quarterback controversy in Arizona between high-priced Kolb and unheralded John Skelton. Kolb was notably beat up the past few years, suffering concussions in both 2010 and 2011. When healthy, he hasn't exactly lived up to the promise the Cardinals were expecting when they got him from Philadelphia. Kolb needs to develop more. He needs to be more accurate – when you have Larry Fitzgerald on your team, a 57.7% completion percentage is just not enough. He needs to improve his presence in the pocket. If not, the Cardinals will get a relief in their pockets by dumping the expensive Kolb. All that being said, he's still better than Skelton.
Not Yet – I originally called this "bad" quarterbacks, but it's not really fair to say that, as there are some talented names on this list – some of them are young quarterbacks who need a few seasons of full-time starting to develop, some are borderline players scrapping for jobs, and some are trying to come back from injuries. One way or another, these teams aren't – or shouldn't – be expecting a lot of performance out of their quarterback position this year.
Mark Sanchez (NY Jets)
Chad Henne (Jacksonville)
Jake Locker (Tennessee)
Sam Bradford (St. Louis)
Russell Wilson (Seattle)
Tarvaris Jackson (Seattle)
John Skelton (Arizona)
Matt Flynn (Seattle)
Colt McCoy (Cleveland)
Brandon Weeden (Cleveland)
Seneca Wallace (Cleveland)
Ryan Tannehill (Miami)
Blaine Gabbert (Jacksonville)
We've got a couple teams here—Seattle and Cleveland--with three quarterbacks fighting for one starting job – and when you have three potential starting quarterbacks, you often have zero starting quarterbacks. If you're surprised to see Matt Flynn down this low, you're remembering his gem in the last game of 2011 – but that's one game. Flynn was drafted in the seventh round of the draft for a reason, and will struggle some when teams get enough film on him to game plan against him. However, he's certainly got more potential than Tarvaris Jackson, who we've seen, so the Seahawks would probably be best off by letting him loose and seeing what he can do in a full NFL season.
Tim Tebow – Tim Tebow.
Tim Tebow (Tim Tebow)
Tim Tebow? Tim Tebow. Church groups are coming to visit his practice sessions. That's…there are no words. Tebow's a great story, but he's not an NFL quarterback.
Of course, now that I've said this, watch him reinvent the game of football, and lead the New York Jets to the Super Bowl, where they'll outduel Tarvaris Jackson and the Seahawks for the title. That seems about right.
Check out what other visitors have said at This List is a Mockery.