NFL Football: Great Games to Watch For in 2012
I know the NFL season is still a few months away, but it's never too early to highlight a few games that should be fun to watch or just have a few intriguing matchups. So despite it being July, I'm going to go through the schedule and let you know what games I'm looking forward to and why.
Week 1: Washington vs. New Orleans
The only reason I'd put this game at the top of my watch list for Week 1 is to see if Drew Brees is under center for the Saints. If they get a deal done this might not be much of a matchup, but I'm willing to bet the Redskins and rookie quarterback Robert Griffin III will be up to the challenge of his first NFL game.
Week 2: Denver at Atlanta
This will be Peyton Manning's first prime-time game in over a year. He has a new team and offensive system, so it will be interesting how Manning handles the pressure and national spotlight. I have a feeling he may show some rust, but Peyton will likely be up to the task.
Week 3: Philadelphia at Arizona
Cardinals' quarterback Kevin Kolb faces his former team, so he'll definitely have something to prove. Kolb will need to perform well if he wants to be the starter in Arizona for an extended period of time this season. Injuries piled up on him last year, so this is a make-or-break campaign for Kolb. Another game that is top for this week is San Francisco at Minnesota. Randy Moss returns to the league and goes back to where it all began.
Week 4: New Orleans at Green Bay
Two of the best teams in the NFL meet up at Lambeau Field and jockey for position in the NFC. This could be a preview of the NFC Championship game as both teams are eager to get back to the Super Bowl. The Saints want to get past the bounty issues and Drew Brees contract saga, and beating the Packers will be a positive step forward. As for the Packers, they will want to show their dominance on the conference by beating a high-powered offense. The good thing for New Orleans is that they travel to Green Bay in September, so it won't be too cold for them.
Week 5: Denver at New England
As a sports fan, I'm very interested to see Peyton Manning back on the field. This showdown with Tom Brady and the Patriots probably won't have the importance of past regular-season meetings between the two elite quarterbacks as they are used to seeing each other in the playoffs.
Week 6: New York Giants at San Francisco
The defending Super Bowl champions travel to the West Coast to face a team that has some familiar faces: Brandon Jacobs and Mario Manningham. Both former Giants signed with the 49ers this offseason, giving San Francisco some added punch to an already potent team.
Week 7: Cleveland at Indianapolis
This probably won't provide a ton of highlights for Sportscenter, but this matchup will showcase two first-round quarterbacks. Brandon Weeden of the Browns and Andrew Luck of the Colts could be battling for their respective first win as a starting quarterback in the NFL. Both teams are rebuilding and a victory will give one young signal caller some confidence.
Week 8: NY Giants at Dallas
In the second meeting of the season, both teams will be juggling for position in the NFC East. This battle never needs added fuel to the fire, but this offseason has provided some. Most recent former Giant receiver Amani Toomer saying Tony Romo is better statistically than Eli Manning. That right there is another blog for another day. But this should be one heck of a battle, one I'll definitely be watching.
Week 9: Buffalo at Houston
Mario Williams and the Bills travel south to face the Texans, Williams' former team. Matt Schaub better hope the offensive line is up to the task of stopping Williams, who was a sack machine during his time in Houston. The Texans are in the drivers' seat in the AFC South so this will be a big non-division game for Houston.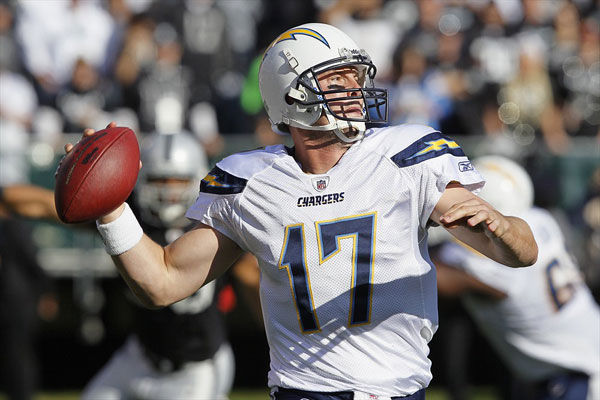 Week 10: San Diego at Tampa Bay
Both the Chargers and the Buccaneers are coming off rough years. After winning 10 games in 2010, the Bucs tallied just four wins last season, none after Week 6. The Bolts missed the playoffs after starting the year off hot. I have a feeling these two teams will be going in different directions at this stage of the season, but this game will be a statement win for the Chargers.
Week 11: Baltimore at Pittsburgh
The Ravens may or may not have Terrell Suggs this season, but if he can play at some point this season one would think it'd be later in the year. And to return for a division matchup like this would be a huge boost to Baltimore's defense.
Week 12: Carolina at Philadelphia
Thanksgiving week always gives us some good matchups and this year is no different. I have to say the NFL got this week right with the choice for Monday Night Football as Cam Newton and the Panthers invade Philly. Newton and Michael Vick have a lot of similarities on the field and this should be a fun game to watch.
Week 13: Arizona at NY Jets
This game gives us a showdown between one of the best receivers (Larry Fitzgerald) and one of the best corners (Darrelle Revis). Granted this all depends on if Revis holds out for a new contract or not. I think Fitzgerald posts some big numbers in this game as long as Arizona's quarterback situation is in a good spot.
Week 14: NY Jets at Jacksonville
The Jets make it on the list in back-to-back weeks for one reason and one reason only: Tim Tebow. Tebow and the Jets face the Jaguars, a team that wouldn't give up enough to bring him in during the offseason. Jacksonville fans might be cheering for at least one player on New York and booing whoever is the Jaguars quarterback.
Week 15: San Francisco at New England
Randy Moss takes on another former team and this one should be good. The Patriots were one of the worst teams against the pass last season and if the 49ers can get its revamped offense clicking this could be a slobber knocker.
Week 16: Washington at Philadelphia
The Eagles and Redskins renew the rivalry at the end of the season. Robert Griffin III gets to see how rough it is playing in Philly. One of these teams will be making a final push for the playoffs so there will be plenty on the line in this game.
Week 17: Chicago at Detroit
The final week of the season gives us some great division matchups and with playoff implications on the line there will be plenty at stake. The Bears and Lions will be battling for the No. 2 spot in the NFC North and the winner will likely be heading to the postseason. This should line up to be one of the best games of the final week of the regular season.
Please read these other related page 2012 - 2013 NFL Standings and Playoff Predictions.