NFL Free Agency: Landing Spots for Cedric Benson and Ryan Grant
With the NFL offseason in full swing, some teams still have some holes and some players are still searching for a new home. Some free agents are taking their time deciding on where to sign, waiting for an injury or opportunity to open up. Veterans are staying rested before they have to start the rigorous routine of minicamp and eventually preseason. Every player in the league knows that this is the healthiest and best they'll feel the entire year. With that in mind I'll break down some of the remaining big name free agents at each position, giving them a good fit for the 2012 season.
Let's start with the running back position. One name that is still out there is Cedric Benson. The seven-year veteran has played the last four seasons with the Bengals, but they have moved on. Benson rumbled for an average of 298 carries and 1,143 yards over the last three years. Granted his total has declined each year, but he's been carrying the load in Cincinnati as they've been rebuilding. Now the future looks bright for the Bengals with Andy Dalton and A.J. Green. Cincinnati decided to go a different direction with the running game though as they have brought in BenJarvus Green-Ellis to help the running attack. While there is always a chance Benson goes back to Cincinnati, it is very unlikely. So with that in mind, what teams out there could use the veteran? There are a few that would welcome a potential 1,000-yard rusher to the team, despite his off the field issues of the past.
The Colts come to mind right off the bat. They didn't have a 1,000-yard rusher last season as Donald Brown gained just 645 on the ground in 2011. With rookie quarterback Andrew Luck taking the reins in Indy, he'll need a steady running attack to ensure he doesn't end up on his backside every snap. The Colts have some unproven backs in the stable, with Brown leading the way. Benson would be the starter for the Colts and have some younger backs there to spell him so he can stay fresh. This seems like the best landing spot for Benson as he'd be a shoe-in for the starting job, which is something I'm sure is at the top of his list for potential teams.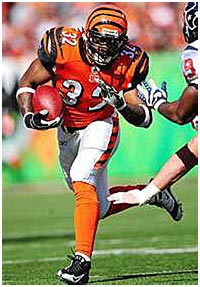 Green Bay is probably high on his list as well. The Packers are a passing team, but Benson could fit in just fine with Aaron Rodgers. James Starks is the team's leading rusher from last year and will likely be the starter in 2012. But we all know how important a backup or running back tandem is in the NFL these days. Just look at Green Bay's rival Minnesota, who may be without Pro Bowler Adrian Peterson for a few games this season – and they don't have a legitimate backup there either. Benson may have to take a backseat to Starks, but he'd still get plenty of touches in this high-octane offense. Plus Benson, who is entering his eighth NFL season, wants a championship, and joining a Super Bowl caliber team like Green Bay makes a lot of sense.
Another landing spot, which would be an intriguing one, is Oakland. The Raiders have a starter in Darren McFadden, but he missed the final 10 games of the 2011 season with a foot injury. While he is expected to be a full-go once minicamps start up, the Raiders don't have a solid backup anymore. Michael Bush headed north to Chicago this offseason; leaving Oakland in some trouble if anything happens to McFadden. Plus the Raiders didn't address this issue in the draft, which leads me to believe they'll be signing a veteran running back at some point this summer. This scenario isn't ideal for Benson, but it gives him a chance to get plenty of reps if the Raiders take it easy with McFadden. And apparently I'm not the only one who thinks the Raiders are a good team for Benson.
Former Green Bay back Ryan Grant is also without a home at this stage of the offseason. The Packers are committed to James Starks as the starter and seem to have moved on from Grant, who has been plagued by injuries the last few years. He was injured in Week 1 in 2010, but rebounded to play in 15 games in 2011. Unfortunately Grant wasn't as effective as Starks. Grant is just three years removed from being a 1,200-yard rusher, so if he can stay healthy he'll be a great addition to a team.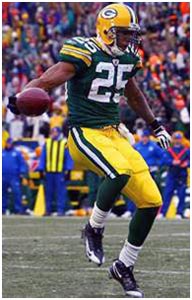 The first team that comes to mind is Pittsburgh. The Steelers may be without leading rusher Rashard Mendenhall for the first six games of the season, if he goes on the physically unable to perform list (PUP). If that is the case the Steelers have slim pickings in the running game. Veteran Najeh Davenport and rookie Chris Rainey could carry the load, but Pittsburgh has other plans for Rainey and Davenport just isn't good enough to be the main back. Enter Grant, who would fit the bill nicely. He'd be seeing the lion's share of carries until Mendenhall is 100 percent, which may be longer than six games. This gives Grant a chance to show the rest of the NFL what he brings to the table – especially if he signs a one-year deal.
Jacksonville could also be a fit for Grant. With Maurice Jones-Drew upset with his contract, the Jaguars can't risk having him holdout. If he does holdout, the Jags have just Rashad Jennings as a backup and he's not a starting back in the NFL. Jacksonville loves to run the ball, as MJD rumbled for more than 1,600 yards in 2011. Grant would be a nice complimentary back to Jones-Drew. Grant would be able to spell MJD as he's been rode hard so far in his young career. The Jags rely on the running game a lot and Grant would get plenty of reps as Jacksonville's offense continues to evolve.