NFL Free Agency: The Best Offensive Replacements Left
Training camps are almost a month away! Teams are lining up in minicamps, and we're slowly ticking ever so close to August and the beginning of actual – if preseason – football. It's time for optimism from everybody. Everyone's on equal footing – any given Sunday and all that, right? From the Giants down to the Colts, everyone can dream of a season that will go down in history!
Unfortunately, training camps are almost a month away, and teams are lining up in minicamps as we're slowly ticking ever so close to August and the beginning of actual – if preseason – football. This means people are wearing pads and hitting one another, stretching out muscles which haven't been used for football purposes in months. It's inevitable that somewhere, something will snap – in 2010, for example, defending sack champion Elvis Dumerivl's season was ended after he tore a pectoral muscle during a routine passing drill, and a few years before that, high priced free agent center LeCharles Bentley tore a patellar tendon in his first day of practice, and ended up never playing a down for the Browns. Not every team starts on equal footing on opening day – people get hurt. It's a sad truth of the game.
These holes have to be filled, of course. Sometimes that means the 54th man on the totem pole gets bumped up one slot and makes the final roster. However, sometimes, there's no one on the roster who quite fills the roll of the departed player – perhaps the ownership wants a veteran presence, or feels that the former third-string choice isn't ready to play second chance. That's when they turn to street free agents, looking for contracts, to come in and compete for roster slots. These aren't your plan A free agents – heck, they aren't even plan Bs for most team. But in an emergency situation, sometimes you just need someone to come in quickly to fill a hole you weren't expecting. Though the pickings are slim, there are some decent players still out there, waiting for a chance.
QB Dennis Dixon (Pittsburgh)
It wasn't a stunner to see Dixon released from the Pittsburgh Steelers this offseason – the Steelers have possibly the best quarterback situation in football, with a pro-bowl starter and two experienced starting quarterbacks in Byron Leftwich and Charlie Batch backing him up. They don't have room for a young inexperienced player like Dixon – but that shouldn't be used against him. Dixon has upside as a potential starter, and visited a number of teams this offseason, including Denver, Baltimore, and St. Louis. Dixon has impressive speed and arm strength, and did lead the Steelers to a win the last time he played a full game for them, back in 2010 when Roethlisberger and Leftwich went down with injuries. He's raw and unproven and won't get the starting job he covets, but teams could do worse than to have the intriguing 27-year old on the roster in case of emergencies.
RB Ryan Grant (Green Bay)
On the other end of the experience versus potential spectrum is Ryan Grant. Grant has lost a step, it's true, and is on the wrong side of thirty, an age when running backs begin to wind down. He'll never regain the form he had in 2008 or 2009, when he ran for more than 1200 yards. But, even last year, he was an effective part of the Packers' running game, running for more than four yards an attempt while splitting time with the younger James Starks. The Packers are more than happy to go with Starks and John Kuhn, but this is a two-back league at this point, and Grant still might have something to offer as a change of pace back to someone. He'll have to wait to see who goes down, and lower his expectations on salary, but I wouldn't be at all surprised to see Grant play a role this season.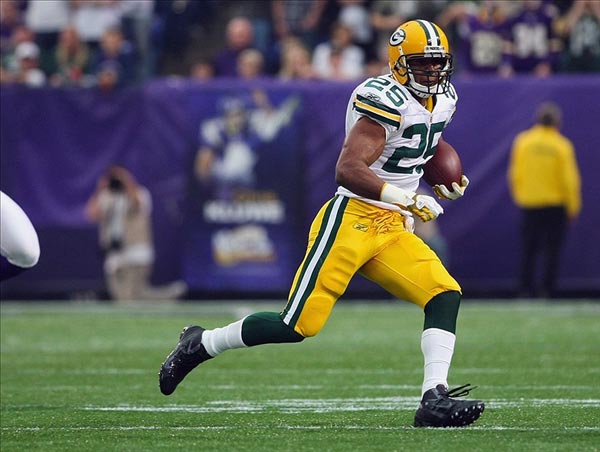 FB OvieMugheli (Atlanta)
The fullback is a dying breed in the NFL, as teams are going more to spread offenses and hybrid H-Backs for their blocking needs. That means the few teams that still use fullbacks get their pick of the litter, but it also means talented fullbacks are becoming harder and harder to find. Mugheli made the Pro Bowl as recently as 2010, but was released by the Falcons to cut salary as he rehabs from a torn MCL. He's never provided much as a rusher, but is a tough blocker. The Dolphins brought him in last month to take a look at him, and he could provide some toughness to a team looking for a traditional two-back set.
WR Braylon Edwards (San Francisco) and PlaxicoBurress (NY Jets)
Two outspoken receivers with past legal issues are grouped here together because one might replace the other – rumors have swirled that the Jets have looked into signing Edwards to help replenish their depleted receiver corps, which at the moment stands at Santonio Holmes and a bunch of question marks. Edwards struggled with the 49ers last season, due in large part to a series of injuries. He's one of the last free agent receivers standing who could actually start for a team, and would be a great third or fourth receiver as well.
If Edwards DID reunite with Rex Ryan and the Jets, he'd be replacing Burress, who of course missed the 2009 and 2010 seasons due to his incarceration. Calling Burress a top free agent is a stretch – he'll be 35 and hasn't had a real quality season since 2007, but this is the flipside to the fullback situation – with teams more and more using four and five wideout sets, pickings at the position have gotten thin. Burress still thinks he has something to prove, however, and a small, incentive laden contract might be worth it to a gambling general manager – it took Michael Vick multiple seasons to excel again after jail time, after all, so maybe Burress has something left in him.
TE VisantheShiancoe (Minnesota)
Though my spell-check desperately hopes Shiancoe stays on the sidelines this season, that seems somewhat unlikely. The Vikings chose not to re-sign the 32 year old tight end in an effort to get younger at the position, but he's been a consistent, dependable starter for the past five seasons in Minnesota, through quarterback change after quarterback change. He's arguably been one of the top dozen tight ends in football over the past five years, playing in every single game over that time span – something only seven other tight ends can claim. Shiancoe is not an elite receiver, nor is he the world's greatest blocker, but he's solid in all facets of his game, and can provide veteran leadership. It will probably take an injury to see Shiancoe find a roster spot somewhere, but as two tight end sets become more and more in vogue, it won't be too long before he sees the field somewhere.
OT Marcus McNeill (San Diego) and Max Starks (Pittsburgh)
Nothing's more important than protecting your quarterback in the NFL, and so high quality tackles tend to get locked up quick. That means any signing of the tackles available at this point would be risky, and thus may not meet the criteria set out at the beginning of the article – solid, dependable replacement parts. That being said, these two tackles, despite having some injuries, would represent good risks for an enterprising team to take.
Marcus McNeill is insanely talented, a multiple time pro bowler during the peak of the Chargers offense last decade. He's also only twenty eight years old, meaning he could still have quite a long career ahead of him. He's a punishing run blocker, paving roads for LaDanian Tomlinson and Ryan Matthews. He's also had two knee surgeries and a neck injury, meaning he's only played in twenty games the last two years. When healthy, he's still shown he can be a solid starter, but teams are justifiably concerned that the repeated injuries and time missed have taken their toll. McNeill visited Atlanta, Detroit, and Kansas City, but all teams passed on him. Honestly, a year off to recuperate from all the injuries wouldn't be the worst thing for McNeill to do, but an injury in camp might give him an opening.
Everything above holds for Starks, too, but there's a couple more negative indicators in his case. First of all, he's two years older than McNeill, and thus that much closer to the end of the road. Second of all, he's larger than McNeill, and Starks injury is the ACL he tore in the playoffs. The Steelers drafted Mike Adams to possibly replace him, but have left the door open for Starks to return after his rehab is done. McNeill has more upside, but Starks has the easier road to get into the NFL this year due to his familiarity with the system…
OG Jake Scott (Tennessee) and Vernon Carey (Miami)
Jake Scott is undersized for a guard, weighing in at only 280 pounds, so he hasn't been the best run blocker in the history of the NFL – not that stopped Chris Johnson from having his 2000 yard season behind Scott's line. Despite his size, Scott has started every game since 2005 – one of only five linemen who can make that claim -- and is only 31 years old. He can play tackle, as well, adding versatility to his repertoire. The Titans thought they could go cheaper somewhere else, but Scott would be a great pickup for depth somewhere in the NFL.
Oddly enough, Pro Football Reference declares the player with the most similar career to Scott to be another free agent guard, Vernon Carey. Carey's a veteran tackle who was moved to guard by the Dolphins last season, and held up well. At 335 pounds, Carey is a mountain in the middle of the line – but has questions in terms of his pass-blocking ability, explaining his move to guard in the first place. His versatility will be his biggest asset as well, able to play anywhere on the line but center. He should be able to find a spot on some team's depth chart as injuries begin to rack up.
C Casey Wiegmann(Kansas City)
All the other players listed are actively trying to find new teams, but Weigmann, at thirty-nine, is probably done. Wiegmann played in league for fifteen seasons, starting more than one hundred games for the Chiefs during their great offensive years in the 2000s, but his performance had begun to trail off. The Chiefs have already begun to transition the position to Rodney Hudson, whom they drafted last year. Why list him, then? Well, the Chiefs are maintaining his locker, and he hasn't QUITE filed the paperwork to retire just yet. Stranger things have happened in the league, and Wiegmann may find a reason to have his 11,102 consecutive snap streak continue.
Next week, I'll flip to the other side of the ball, and see which names are left to replenish the depths of the league's best defenses. Until then, may your favorite player's ACL remain strong and your quarterback's elbow stay in one piece!