NFL Players Love Their Dogs
By Lee Lamb
Professional athletes are known to travel with entourages of assistants and friends. Many National Football League players particularly like to surround themselves with dogs (who simply don't care what they do for a living). Everyone needs a little unconditional love from man's best friend, and NFL players are no exception.
The Jones-Drew Trio
A three-time All-Pro running back with the Jacksonville Jaguars, Maurice Jones-Drew might conjure images of a bulldog on the football field, sporting 210 pounds on his 5 foot 7 inch frame. But off the field, Jones-Drew is the owner of an actual bulldog, Phillip, along with a Puggle named Duke and a Teacup Yorkshire Terrier named Trinity, as NFLRush explains. Offspring of a Pug and a Beagle, Puggles generally weigh between 15 and 25 pounds, according to Pugglesville. Teacup Yorkies, on the other hand, are generally only 6 or 7 pounds at full size.
Jones-Drew was photographed for Sports Illustrated with Phillip cradled in his arms like an overgrown baby. So all three may be treated like little kids, but good money says Phillip beats the others through the pet doors when he wants.
The Roethlisberger Legacy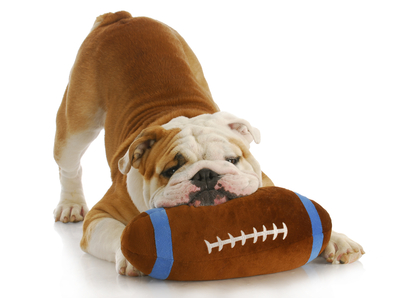 In late September 2013, Pittsburgh Steelers quarterback Ben Roethlisberger tweeted that he had made the difficult decision to put down his 9-year old dog Zeus after an intestinal cancer diagnosis, WPXI reported. Ben and Zeus had also posed for the Sports Illustrated "Athletes and Their Dogs" photo gallery in happier times.
However, the spirit of Zeus continues in The Ben Roethlisberger Foundation. The Super Bowl champion created the charity to support K-9 units of police and fire departments around the country through grants. Since 2006, the foundation has distributed over $850,000, according to GivingBack.org. Although Pittsburgh is the main focus of the organization, departments in all the cities that the Steelers play on the road each season are also eligible to apply. Roethlisberger adds an additional non-NFL city for each round of playoffs the Steelers make it to, as FireGrantsHelps.com reports.
The Ravens' Cause
Possibly more than any other NFL team as a whole, the Baltimore Ravens have embraced the cause of animals. In addition to frequently tweeting about their dogs, Baltimore Ravens Blog highlighted how several Ravens players participated in a Baltimore campaign to end animal cruelty. Wide receiver Torrey Smith posed with his pitbull, Prince, while linebacker Brendon Ayanbadejo shared the frame with his French bulldog, Buster. Ravens quarterback Joe Flacco ran a separate campaign with a doughnut chain to raise money for the Baltimore Humane Society in 2011, according to Naptime Huddle.
Morgan Cox, the team's long snapper, was so smitten with his new black Labrador puppy, Crosby, that he and his wife had professional photos taken with him. Nose tackle Terrence Cody, who's been known to bring his dogs to the Ravens training facility, runs Mt. Cody Kennel where dogs of all breeds are trained.
Many other current and former NFL players have dog-centric lifestyles. St. Louis Rams linebacker Will Witherspoon opened a chain of doggie day care centers in North Carolina with former player Dan Morgan, and both have vowed ongoing support for Project HALO, a no-kill shelter. San Francisco 49er Glenn Dorsey, former players Aaron Curry and Sedrick Ellis, and Chicago Bear Lance Briggs all participated with their dogs in PETA's "Be Your Dog's Biggest Defender" campaign.