Predicting Picks In The NFL Entry Draft
By Steffen Ploeger
The NFL entry draft begins tonight, and carries on into Saturday as the league's 32 teams add new talent to their roster. The entry draft is watched by millions of people every year as fans want to see first-hand if their team selects a good entry player...or a potential superstar.
When fans think of an NFL superstar, the most obvious position that comes to mind is the quarterback. As the unofficial leader of the team, the arm of the quarterback is often a crucial reason why some teams make the playoffs, and others do not. Fans remember the likes of Doug Flutie and Joe Namath, or look at the current elite QBs like Tom Brady and Peyton Manning – and immediately recognize that there is an unnamable quality in each elite quarterback.
NFL insiders and analysts believe this year's entry draft is noticeably lacking in star quarterbacks. As a result, many teams are more interested in adding physical strength to their offensive lines in order to protect their current quarterbacks. Offensive tackles and guards are given significantly less attention by the media compared to their playmaking teammates, but a strong offensive line can provide quarterbacks, running backs, and receivers with the protection and time to make a great play.
As a result, the first picks of the entry draft are expected to recruit young linesmen who are capable of holding back opponents. The NFL free agency, which occurred last month, also witnessed teams negotiating deals to sign free agents on the offensive line. The free agency historically sets the tone for the draft, and fans bet that top seeded offensive tackle Luke Joeckel, along with fellow tackle Eric Fisher will be the first new players of the NFL. The Kansas City Chiefs have the first pick in the draft, and predictions on their first moves are discussed here.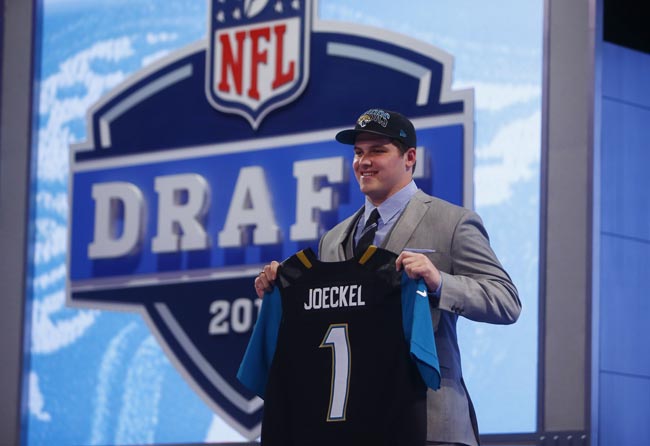 By the time the draft finishes on April 27, over 250 of the best college football players in the US will become the newest members of the NFL.