Ranking the Offensive Linemen in the 2012 NFL Draft
1. Matt Kalil, Junior - USC
When you talk about completeness on the offensive front, you think about guys like Matt Kalil. The 6'6", 295lb bull of a tackle demonstrated control reminiscent of Jonathan Ogden during his 2010 and 2011 campaigns with USC, eventually earning All-American honors from virtually every major NCAA media outlets.
Kalil consistently demonstrates footwork as consistent as clockwork and has knack for putting his big body where it needs to be, even after a rare slip-up. He hits with the momentum of a boulder rolling down a steep cliff, often leaving defenders in his wake gasping for breath and staggering towards the sideline. The man who allowed only 8 sacks of a rather immobile Matt Barkley all season will step in immediately for either the Rams or Vikings and should be a perennial Pro-Bowler for years to come.
2. Jonathan Martin, Senior - Stanford
Explosion is key when evaluating an offensive linemen's run-blocking capability, and if I had to give Martin a grade for it, he'd be getting extra credit. The Stanford product jumps off the line like he was standing on a springboard and hits with the ferocity you usually see in a linebacker with something to prove. The praise I shower him with as a run-blocker doesn't diminish his well-rounded game as a pass blocker, delivering a powerful jab followed by the relentless hook of a boxer, guiding the rusher wherever Martin pleases.
Although somewhat soft-spoken, Martin's impact on the career of draft analysts' Prodigal Son, Andrew Luck, is undeniable. Anchoring on offensive line that allowed a measly 9 sacks in 2011, the 6'6", 305lb Martin rarely failed to hold even the craftiest of pass-rushers in check, securing his status as a top-10 draft pick.
3. Riley Reiff, Junior - Iowa
The athleticism alone displayed by this Mid-American lineman is enough to have NFL scouts salivating in the film room. But don't let his quick-footed play and long-reaching hold-offs fool you, Reiff still delivers some heavy punishment when blocking down and flying into the second level. His skillset is widespread, passing off defenders mid-play to pick up previously unseen rushers with seemingly little effort, meanwhile, showing the awareness to crack back and lay down a punishing block on an inside free rusher. At 6'6" and 300lbs, Reiff has more than enough size to develop into a franchise LT and shouldn't have a problem winning a starting spot before the end of camp.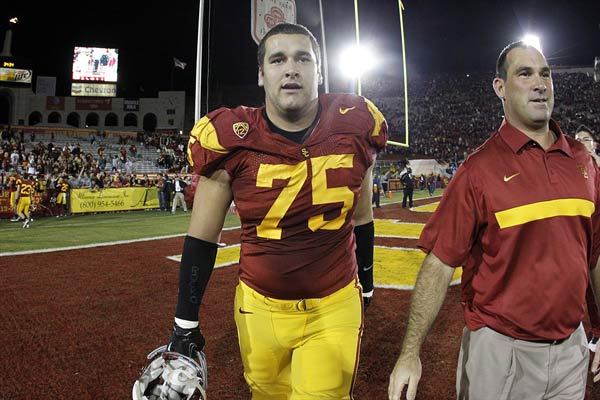 4. David DeCastro, Senior - Stanford
The first interior lineman on this list is a nimble, hard-hitting All-American who may just be the best guard to hit the board since Steve Hutchinson in 2001. His physicality in the run game and quick explosion into the second level are prototypical of an NFL-ready guard, but what really sets him apart from the rest of the crop are his instincts. DeCastro makes a point of creating a wall of separation between the defender and the attack point of the play, often compromising this wall if he senses the ball carrier bouncing the play out or cutting up inside. These often disregarded contributions are invaluable to a run-oriented offense and at 6'5 and 310lbs, DeCastro should be a lock to be picked in the top 15. Expect him to land on a trench-needy, heavy running team like Kansas City or Dallas.
5. Cordy Glenn, Senior - Georgia
He's 6'5", 350lbs, has a mean streak like a Rottweiler, and plays to the whistle and beyond. Talk about upside, Cordy Glenn is a straight mauler with the overwhelming size and brute strength to put a sumo wrestler out of commission. His front-heavy stance and long powerful arms make him the ideal candidate to make the move to right tackle, but for now I see him manning the inside and using his forceful dig-blocking ability to establish large holes for his backs to run through.
Glenn does have issues when it comes to mastering his footwork, likely dampening his dreams of making a permanent move to LT. Occasional lapses in concentration are also an issue as Glenn has wrecked a few plays by going for the pancake rather than holding his ground and encasing the defender, and consequently, allowing an easy path to the ball.
6. Mike Adams, Senior - Ohio St.
As a Junior, Adams was a First Team All-Big 10 selection, displaying near flawless fundamentals and a sturdy base when engaged. However, his reputation took a hit after being involved in the infamous OSU tattoo scandal prior to their 2011 Sugar Bowl victory. Although the following suspension didn't appear to have any adverse effect on Adams's admirable technique and overall athletic shape, the scandal has, perhaps unnecessarily, labeled him as a player with character issues.
Adams has all the required tools to be a dominant left tackle at the next level and any team daring enough to overlook the asterisk is going to be rewarded generously. A well-rounded blocker with an intimidating 6'8", 320lb frame, this kid has the potential to reach Pro Bowl level after only a year or two. Despite all the negativity surrounding him, Adams should still be a top 20 pick.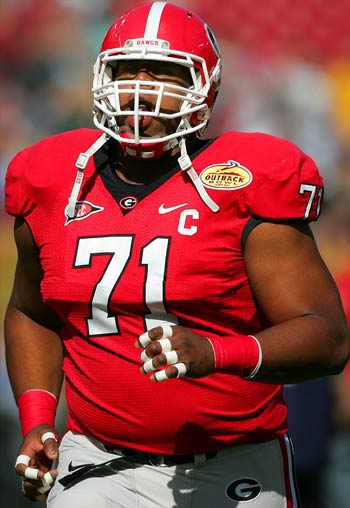 7. Peter Konz, Junior - Wisconsin
The first center on this list made a name for himself with his intellect and magnetic ability as a pass-blocker. The 6'5", 315lb Konz anchored the nation's most respected O-line, which averaged just under 240 rushing yards per game. His wide base and powerful thighs make him a solid barricade, capable of controlling the most talented interior rushers the Big 10 had to offer.
Konz's major issue is his tendency to lead with his head in man-up situations. This results in a fair amount of whiffs and ultimately busted plays. If this Wisconsin native can learn to be better disciplined and extend his arms when engaged, he has the potential to be one of the NFL's premiere centers. Konz will likely be selected in the 20-25 range.
8. Levy Adcock, Senior - Oklahoma St.
Here's a guy who has really impressed me. Levy Adcock has solid fundamentals, a sturdy base, a lightning-quick shift, and can deliver a block more "Achy Breaky" than his mullet. At 6'5" and 322lbs, he may end up making the transition to guard, assisted by his impressive lateral quickness and proven ability to pull and blow open holes. Unfortunately, strength may be a concern, especially come Combine time. Adcock is frequently driven back after initially engaging in a block and isn't exactly equipped to handle powerful bull-rushers. Luckily for him, this is an area easily improved and if he can get some work in during the offseason and impress at the Combine, I can see him being selected late in the first round.
9. Kelechi Osemele, Senior - Iowa St.
Osemele may be the best pure athlete on this list, despite weighing in at 347lbs. The S.I. First Team All-American displayed surprising quickness and explosiveness worthy of a Wiley Coyote speed trap. His footwork may be flawed, but this freak of nature has plenty of time to develop his fundamentals and find a place as a prominent NFL guard. Not only do his pulling blocks leave unsuspecting defenders devastated, but his quick scoop allows him to protrude to the second level to become an effective lead blocker. Osemele has a lot to offer at the next level and should be an early-second round pick at worst.
10. David Molk, Senior - Michigan
The last guy on this list is probably the hardest worker. A 4-year letterman and starter at center, Molk anchored an offensive line that sprung the dynamic Denard Robinson into action, producing over 220 yards a game and allowed a pair of thousand-yard rushers in 2011 alone. His work did not go unappreciated, as the slightly undersized workhorse was named a team captain in 2011, was awarded the Rimington Trophy, and was named an All-American by SportingNews, Walter Camp, and the Associated Press.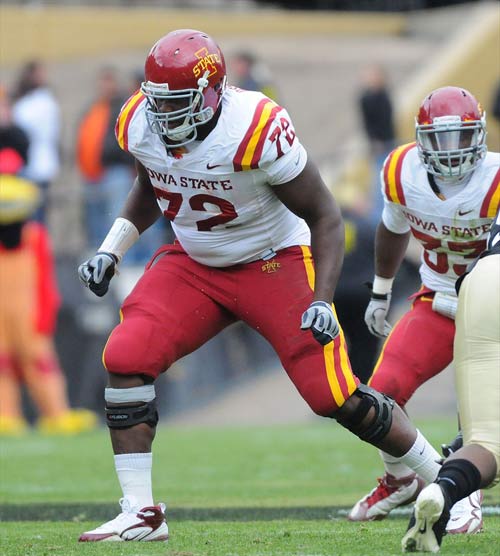 Molk may not have the size or strength to consistently battle interior bull-rushers in a pass-first offense, but in a zone blocking scheme there's no question that he can be an effective starter. What he lacks in size, he makes up for in effort - Molk has developed superb footwork and a low, solidified base. Here's a guy who will likely be selected in the late-third to early-fourth round and who I believe will find a long-term job at the next level.
Read an article about 2012 Mock: An Early Look at Next Year's NFL Draft