Ranking the Running Backs in 2012 NFL Draft
2012's Top Running Back Prospects
1. Trent Richardson, Junior
Alabama -What more can you say about one of the most prolific highlight producers of the last ten years? His 3,000 career rushing yards and 35 touchdowns speak for themselves, but it's his aggressive and powerful running style that have NFL owners considering the going the Ricky Williams route to move up. At 5'11" and 225lbs, Richardson has a stocky body that allows him to bounce off tacklers like a pinball and flatten linebackers under his hefty pad-shelf. Tacklers are much more likely to be knocked out cold after colliding with his trunk-like thighs than they are to actually get him to the ground single-handedly.
The 2011 Heisman candidate's sluggish build creates the illusion of a one-dimensional runner. However, anyone who watched the Crimson Tide offense for even a minute this year knows that this simply isn't the case. Richardson's surprising agility and unwavering ball security are demonstrative of the true completeness of his skill. Defenders struggle not only to wrap this racehorse with enough force to drop him, but to do it with enough discipline not to whiff on the tackle altogether. This is NOT the guy you would want to see one-on-one (or even three-on-one) against your team in the open-field, he's the guy you want your team to pick in April.
2. Lamar Miller, Junior
Miami - The product of Miami Killian HS burst onto the scene in 2011 with a series of flashy performances against the likes of Ohio State, Va. Tech, and Kansas State. His game is composed of a rare completeness as Miller's sure-footed cuts and subtle stutter-steps leave defenders looking for their reputations, as well as their ankles, and his elite vision gives him the potential to compete for a Pro Bowl spot if he ends up behind a proven offensive line. Miller's quick burst and shifty first-level running style have teams picking late in the first round considering upgrading their backfields. Miller will be a latefirst-early second round selection and should be a safe pick despite a lingering shoulder injury.
3. Ronnie Hillman, Sophomore
San Diego St. - Hillman's slim build may not be what you expect from an every-down back at the next level, but what he lacks in size, he makes up for in speed and athleticism. After accounting for over 3,500 total yards in only two years of play, this speedster earned a reputation as one of the NCAA's most dangerous open-field backs, fueled by his brilliant vision and unmatched acceleration.
The concerns arise when evaluating Hillman's physicality and between-the-tackles running. Due to his petite physique, tackle-breaking and short yardage running are trouble areas for the young tailback. However, Hillman has a lot of room to build muscle and has the potential to develop into a premiere back in the NFL with the proper system and a motivated work ethic. Hillman should be a late second-early third round pick.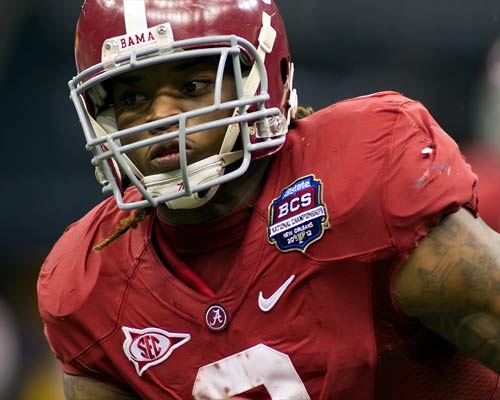 4. David Wilson, Junior
Va. Tech - As we progress down the list, we find David Wilson, another speedy statistical monster with plenty of promise and a knack for leaving defenders on their bellies. Wilson was the focal point of the electrifying Va. Tech offense during the 2011 season, carrying the rock 290 times for over 1,700 yards, maintaining a commendable average of 5.9 yards per carry. The ability to catch the ball out of the backfield is another promising trait of the 2nd Team All-American, as he accounted for 234 receiving yards and 4 scores during his Sophomore year alone.
While Wilson's dynamic speed and respectable size have him listed as a first round sleeper on some boards, I'm concerned by his inability to gain yards after contact, perhaps detailing his rather ineffective red-zone productivity. In a 3rd down role, Wilson would see an appropriate workload utilizing his quickness and crafty receiving skills, but he just doesn't have the forceful running style to start 16 games in the league, and I doubt you'd have much confidence in this guy fighting for those hard yards on 4th-&-short.
5. Doug Martin, Senior
Boise St. - Doug Martin is an interesting case - not flashy, slightly under the radar, and his carries were limited by the pass-heavy offense he worked in. However, the Broncos permitted Martin just enough wiggling room to prove to NFL scouts that he could shred a defense like cheese when the opportunity arose. Not only does this 5'9", 210lb truck show the nastiness to barrel over unsuspecting defenders, but his lightning fast double-moves and forward drive make him a force to be reckoned with not only at the line of scrimmage, but in the 2nd and 3rd levels as well. He looks slow on tape, but any questions about his game speed were answered in Boise's bowl thrashing of ASU, and he has a 40-time low of 3.98 seconds to silence any remaining doubters. Martin scored 12 rushing touchdowns this year, and is considered one of the most surefire goal-line runners in the nation. If there was more film of him dominating at a consistent level, he could gain late-1st round consideration, but there isn't, so we'll just have to see if he lives up to the expectations.
6. Bernard Pierce, Junior
Temple - At 6'1" and 218lbs, Pierce's size is certainly his most noticeable asset. The widespread vision and motivated running style are merely insurance. Behind a broad pad-shelf, Pierce has earned a reputation as one tough cookie, grounding and pounding his way for several school records including for rushing TDs (53), total TDs (54), and points (324). My concern lies in his seemingly lazy lateral movement, which on film doesn't appear to be a fault of his ideal size. Pierce has potential, but he's going to need to learn to adapt his running style, avoiding contact to maximize durability.
7. LaMichael James, Junior
Oregon - One of the more high-profile players on this list, former Heisman finalist LaMichael James is sure to draw a lot of interest during the upcoming months. The 5'9", 195 pounder's clock-busting speed and dazzling agility are sure to give his stock the appropriate boost after the combine, but his overall lack of body will be the dingy smell that lingers amongst discussions of James as a long-term solution at running back.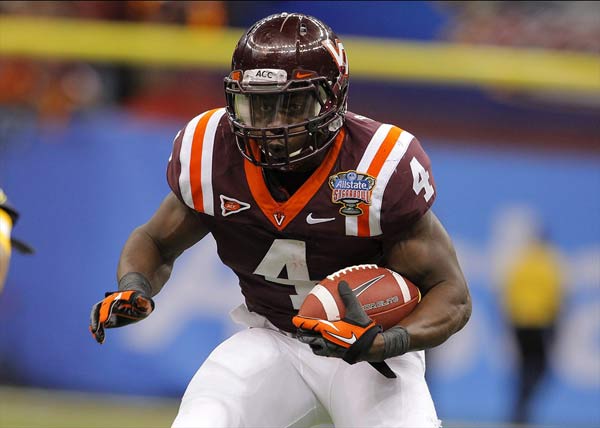 He has the numbers to solidify his status as a second day pick, riding nearly 5,100 career rushing yards and a fresh Rose Bowl title into this pre-draft period. However, if James isn't able to silence his critics by proving his durability and displaying some significant improvement in strength during his workouts, he may end up as just another face in the crowd come training camp. Strong performances in drills like the 225 bench press and broad jump will be pivotal to James if he hopes to climb the draft boards.
8. Bobby Rainey, Senior
WKU - The less-recognizable Rainey packs a powerful punch and may end up making a splash if he can find a proper suitor. Bobby Rainey's breakaway speed is his #1 asset, making him a dangerous scoring threat when he gets the edge and harder to catch than a greased piglet if he can get space in past the line of scrimmage. With MJD-like size, it's no wonder he earned All-American honorable mention after averaging the 2nd most YPG in the nation and shattering the Hilltoppers' career rushing record, and is one of the top dark-horses in the class of 2012.
9. Isaiah Pead, Senior
Cincinnati - As we approach the more apparent day-3 prospects, we notice many players with obvious talent, but who struggle with the less glamorous aspects of the position like pass-blocking and short-yardage running. Cincinnati's Pead is a picture perfect example of a player battling these criticisms to let his upside shine. At the moment, Pead isn't durable enough to carry the rock more than 25 times in a season, let alone a single game and at only 192lbs, his opportunities will be limited.
On the flip side, Pead is an exceptional zone runner, showing resilient patience while waiting for holes to manifest, and he's equipped with the speedy burst to turn slow-developing plays into big runs. After catching 39 passes in 2011, Pead has also proven his value in the aerial game, amassing over 300 receiving yards and perhaps opening up opportunities as a screen specialist at the next level.
10. Chris Rainey, Senior
Florida - This list concludes with the fastest man in college football, Chris Rainey, who made headlines in high school with his NASCAR caliber speed and epic double-moves. Although his touches diminished in a crowded Florida backfield, his talent with the ball in his hands is still undeniable. Durability, pass-blocking, and ball-security are all trouble areas for the Lakeland High graduate, but his outstanding vision and pass catching ability make him a threat not only at RB, but also as a slot receiver and return man. Watch this guy at the combine because he's about to shatter some speed records.
Read More about 2012 Mock: An Early Look at Next Year's NFL Draft.
Check out the other visitors comment Thoughts on Bernard Pierce