TCU Horned Frogs 2012 Football Preview
By Matt Green
After an offseason involving a drug bust of several former TCU players, the Horned Frogs begin their first season in the Big 12, finally reaching the promised land of a BCS conference. And they look to be in very good shape. First of all, let me just say that Gary Patterson, even though he doesn't get the national love he deserves, is a top-5 coach in all of college football. Secondly, TCU has a very good shot at winning the Big 12 this year if it can get past Oklahoma. But TCU has all the returning tools to be able to win the league.
Casey Pachall, a pleasant surprise in 2011, returns as the starter looking to improve on 25 TDs to only 7 picks and a stellar 8.52 yards per attempt. What I loved about Pachall in 2011 even more than his stats and the fact that he led the Frogs to a conference title, is his will to win. It was showcased in the game against Boise, where TCU won 36-35 on the blue turf. Possibly the best game of 2011, but overlooked for some reason (maybe because ESPN owns the sports world and the game was broadcast on the NBC Sports Network). Pachall is a great talent, and assuming he can retain his starting job over talented back-up Matt Brown, he should have another outstanding year.
The skill guys are the least of the Frogs' worries. 2011's second leading rusher Ed Wesley left the program, but that will not make a huge difference to TCU's plans. Waymon James and Matthew Tucker both return in the backfield, a duo that combined for over 1500 yards and 18 TDs in 2011, so the Frogs will be fine on the RB front. And the WR corps may be even deeper. All 3 of TCU's leading receivers from a year ago return. Josh Boyce, who came up just 2 yards shy of 1,000 last year, comes back ready to continue his success, while Brandon Carter starts his second year in Fort Worth after an outstanding do-everything high school career at perennial national power Euless (TX) Trinity. Finally, Skye Dawson, the small, quick playmaker, starts his senior campaign as a premiere slot man.
Their offensive line has some new guys coming in, but if they can learn quickly, this will be just as talented a group as they've had in recent memory. Blaize Foltz is obviously the anchor at right guard, after a very solid 2011, especially in the run game. Tayo Fabuluje, a transfer from BYU, will step in at left tackle and is just a monster of a human being. Dunbar, Wooldridge and Fry round out the starters, as it is easy to see that this group will be incredibly solid protecting Pachall and creating holes for the run game.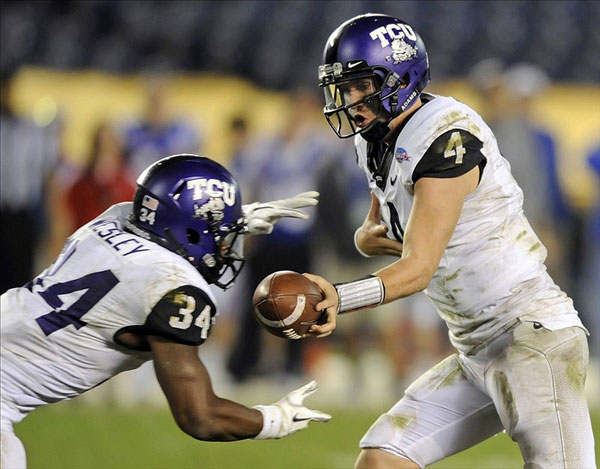 Now to the defense, the always solid TCU D. Maponga comes back at DE looking to continue his strong play, he will need to, as he is TCU's only true pass-rusher. Forrest occupies the other end. Johnson, Lewis, and Hunter will occupy the middle for the undersized Frogs' defense, but, as we saw against Wisconsin in the Rose Bowl, being undersized doesn't mean they can't compete with bigger teams.
Tank Carder is gone at LB after what seemed like about an 8 year college career. TCU's 4-2-5 scheme on defense allows for only 2 linebackers, as they look to get more speed on the field from the secondary positions. Kenny Cain is the star of the defense and will no doubt be a starter in the middle for the Frogs, Deryck (correct spelling) Gildon will most likely take the other slot at LB, taking over for the graduated Carder, while Hosley and Heiss provide some depth at the 2 LB positions.
Finally, we come to the secondary. It was a group that struggled in 2011 early in the year, but started to figure it out late. But they were young. Jason Verrett anchors one corner, while Kevin White takes over the other side, both looking to do more defending the passing game. Carter and Anderson are both extremely athletic safeties who will no doubt wind up in the NFL as high draft picks, and Olabode plays the other rover/nickel position, as a little bit undersized, but perfect to match up with slot receivers in the passing game.
2012 schedule:
vs Grambling
@ Kansas
vs Virginia
@ SMU
vs Iowa State
@ Baylor
vs Texas Tech
@ Oklahoma State
@ West Virginia
vs Kansas State
@ Texas
vs Oklahoma
The season starts out fairly easily for TCU, as they shouldn't have a problem winning their first 5 games. Even their first 7, assuming they can get by Baylor on the road, something they failed to do in 2011. Then, after Game #7, murderer's row begins for the Horned Frogs. Oklahoma State, West Virginia and Texas on the road, with K-State and Oklahoma in Amon Carter. None of those are a gimme. Based on all of these facts, I will say that TCU ends up 10-2 (7-2), with losses at West Virginia and at home against Oklahoma. Should be yet another successful year in Fort Worth.
Greenie's Top 25 Countdown List:
#21 TCU
#22 Oklahoma State (http://www.thebestfootballblog.com/2012-oklahoma-state-cowboys-preview.html)
#23 Boise State (http://www.thebestfootballblog.com/2012-boise-state-broncos-preview.html)
#24 Nebraska (http://www.thebestfootballblog.com/2012-nebraska-cornhuskers-preview.html)
#25 Texas (http://www.thebestfootballblog.com/college-football-previews-texas-longhorns.html)
Read more about TCU here:
http://cfn.scout.com/2/1189399.html
Here's our Preview of the NCAA 2012 College Football Season and Bowls.