The Best and Worst of NFL Free Agency
With the bulk of free agency over, it's time to look at which teams did the most to improve their squads, and which teams saw notable players leave during free agency. Contract values matter-overpaying for talent hurts you, while signing players for a value helps.
In short, these are the teams that shopped wisely, finding bargains both big and small.
Improved: Jacksonville Jaguars
Added: RB Toby Gerhart, G Zane Beadles, DE Jason Babin, DE Chris Clemons, DE Evander Hood, DE Red Bryant

Lost: QB Blaine Gabbert, RB Maurice Jones-Drew
Jaguars head coach Gus Bradley used to be defensive coordinator for the Seattle Seahawks, and it shows with this free agent haul. Both Clemons and Bryant were key players in Seattle, and will provide instant upgrades in Jacksonville. The Jaguars defensive line was a disaster last season, and only ended up with 31 sacks.
Outside of the defensive line, they brought in Zane Beadles from the other Super Bowl team to help boost their offensive line-no matter who starts at quarterback on opening day, Beadles will be a boost to his protection.
Losing Maurice Jones-Drew hurts from a nostalgic standpoint, but at this point, Gerhart's probably an equivalent player. Getting rid of Blaine Gabbert is probably a plus in and of itself, not to mention getting a sixth-round pick out of the deal.
Improved: Tampa Bay Buccaneers
Added: QB Josh McCown, T Anthony Collins, C Evan Dietrich-Smith, DE Michael Johnson, DT Clinton McDonald, CB AlterraunVerner

Lost: T Donald Penn, C Jeremy Zuttah, CB DarrelleRevis
It's hard to argue losing DarrelleRevis is a good thing. Even recovering from an injury last season, Revis was one of the best corners in football. His salary was just too much for the team to absorb, however, and AlterraunVerner actually fits a little bit better in Lovie Smith's defensive scheme. It's a downgrade, but it could have been much worse.
Josh McCown is a significant upgrade on the quarterback situation, which was awful last season. Mike Glennon was not the long-term solution. McCown won't be, either, but he'll provide higher quality play until they get someone who is.
Dietrich-Smith and Collins are upgrades over Penn and Zuttah on the offensive line, while Michael Johnson adds elite-level run defense to the defensive line. Clinton McDonald is more of a situational player, but he did have 5.5 sacks last season. It's a lot of solid moves adding up to improvements at every position other than cornerback.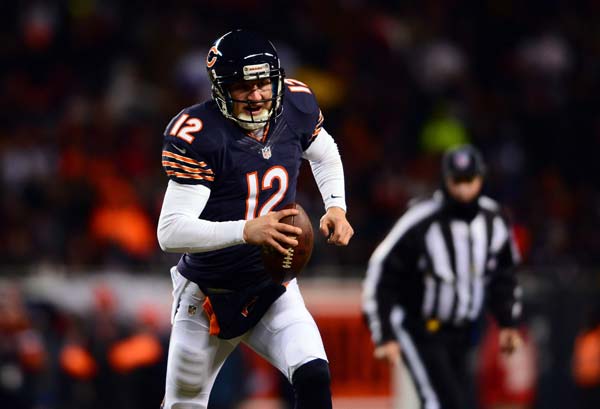 Improved: Chicago Bears
Added: DE Jared Allen, DE Lamarr Houston, DE Willie Young, CB Charles Tillman

Lost: QB Josh McCown, WR Devin Hester, DE Julius Peppers, DT Henry Melton
For the first time in years, the Bears were a liability on defense last season. They've taken the first steps to fixing that, revitalizing their defensive line with the addition of Allen, Young and Houston. Peppers and Melton, who are leaving town, were overpaid for the production they brought to the table last season. The new defensive line should be an improvement.
Houston should anchor the Bears defense for the next five years, and while Allen doesn't have that long left in him, he's still a top pass rusher. The Bears have more work to do on the defensive side of the ball, but they took significant steps forward.
The losses of McCown and Hester won't hurt too much-they couldn't afford to pay both McCown and Jay Cutler starting money, and Hester, as great as he has been on special teams, doesn't add anything on offense. Hester hurts for nostalgic reasons, but the Bears shouldn't suffer too much on the field in his absence.
Declined: Dallas Cowboys
Added: DT Henry Melton

Lost: DE DeMarcus Ware, DT Jason Hatcher
It's no surprise the Cowboys struggled this offseason. They began this year $24 million over the cap, so some gutting had to be done.
It would be amazing if Melton, coming off of knee surgery, managed to equal what Jason Hatcher managed to put up last season. DeMarcus Ware, while no longer quite the same player he once was, is still a Cowboys legend, and was the best player on the team.
They're still not out of salary cap purgatory; it will take them several more seasons to get free and clear on the books. There may be more painful offseasons to come.
Declined: Buffalo Bills
Added: G Chris Williams, LB Brandon Spikes, CB Corey Graham

Lost: S Jairus Byrd
Of course, the biggest lost for Buffalo wasn't on the field. The death of Ralph Wilson was obviously horrible news-not for his ability to run a team nowadays, but simply for the legacy he leaves behind. His commitment to keeping the franchise in western New York has kept the team sturdy, despite near yearly calls for someone to move to Los Angeles, Toronto or London.
Losing Jairus Byrd hurts, a lot. It's even worse considering the large contracts handed out to Aaron Williams and Chris Williams-it would have been more prudent to use that money to try to keep Byrd. There's simply no replacing him.
The players the Bills did sign are, for the most part, overpaid. They'll have to play significantly over their previous levels of success to justify their new contracts. There's no one there to offset the loss of Byrd.
Declined: Oakland Raiders
Major additions: QB Matt Schaub, RB Maurice Jones-Drew, WR James Jones, T Donald Penn, G Austin Howard, DE Justin Tuck, DE Antonio Smith, OLB LaMarr Woodley, CB Tarell Brown, S Charles Woodson

Major losses: RB Rashad Jennings, T Jared Veldheer, DE Lamarr Houston, DT Vance Walker, CB Tracy Porter
You can't accuse the Raiders of sitting back and doing nothing this offseason. With $60 million in cap space, they went out and signed nearly a dozen new starters.
With that kind of money, however, how did they lose Veldheer and Houston? Houston was the best player on the team last season, and Veldheer was arguably the best offensive tackle on the market. Considering the size of the contracts handed out to players like Austin Howard and LaMarr Woodley, it's hard to argue that the team couldn't have found room for Houston and Veldheer, two key building blocks of the franchise.
Then there was their flirtation, signing, and subsequent nullification of Rodger Saffold. It was a bizarre situation, made more so when the Rams immediately re-signed Saffold-clearly, they thought his injury was nothing to be too concerned about. It was a deflating moment for the franchise.
Add in the fact that the average Raider free agent was 30.5 years old, the oldest in the league according to ESPN's Mike Sando, and you have a mish-mash of an approach to free agency that is just confusing. The Raiders will likely be better in 2014 simply from adding NFL-quality talent to a roster that simply wasn't NFL-quality last year, but it could have been so much better.