The Over Analysis of Michael Sam
By Aaron Sass
Back in February NCAA All-American, SEC Defensive Player of the Year, University of Missouri defensive lineman, and the NFL prospect Michael Sam announced publicly that he was gay. This past Saturday, Sam was selected 249th overall pick in the NFL draft by the St. Louis Rams. Making him the very first openly gay draft pick.
Since he's been drafted, there's been a lot of coverage of his reaction and other players reactions to him now officially being part of the NFL. It's almost sickening the amount of coverage that this story is getting.
I'm happy to see that Michael Sam being openly gay wasn't held against him, and was drafted in the spot he probably should have been drafted in. It's also great to see that most people's reactions have been positive. But there's just been too much analysis over who he is as a player, what he's going to bring to the Rams, and if his sexual orientation is going to become a distraction.
It's safe to say that Sam is getting more attention than any other 249th overall draft pick in NFL history. Yesterday I saw that Fox Sports had a live broadcast of his introductory press conference in St. Louis, and I couldn't believe it. The media asked Sam all of the questions you'd expect them to ask, and Sam responded how you'd expect him to respond.
I guess I understand the fascination with a story like this. But there comes a time when you just have to let it go and realize that it's not that big of a deal. It's awesome that Sam felt comfortable enough to share with the public what should only be his business. However it shouldn't be a big deal.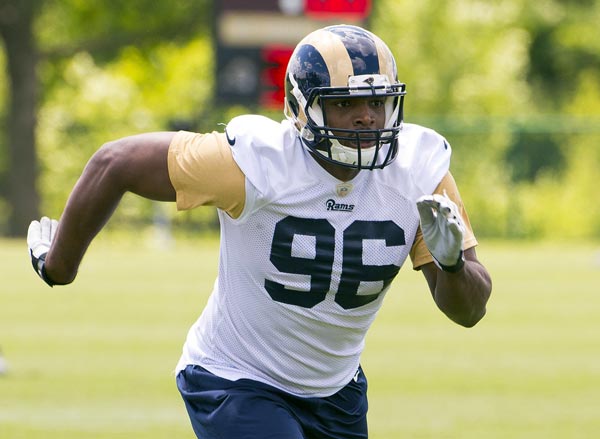 What I'm trying to prepare for is if Michael Sam doesn't make the Rams final roster or if he makes it but never gets any playing time, and the media begins to over analyze that. You'll probably start to see regular 10 to 15 minute segments on SportsCenter every week of the NFL season where they talk about whether or not it has to do with his talent or his sexual orientation.
Everything that Sam does will be tagged with "he's the first gay player to do this". It's really annoying. Just let the guy have a career and never mention it.
Is it ground breaking and great that Michael Sam is the first openly gay player in the NFL? Sure, I guess so. But is the reaction to it surprising? No. It's 2014, being gay is accepted for the most part.
Whether he becomes an NFL Hall of Fame caliber player or whether he's a scrub, the headline will always be the same. It's great that most of the NFL players and general public have reacted positively. But it's unfortunate that he'll never be looked at as just a player in the NFL, whether he's great or not.