What We Learned from College Football Week 1?
By Matt Green
Week 1 was almost as entertaining as college football Week 1s come, with a mix of close games, blowouts and some obvious overrated teams. Let's get going with the 20 things we learned from CFB Week 1.
#1 THE BIG TEN IS NOT VERY GOOD
Michigan was demolished, and were lucky to even score 14 points. Michigan State tried time after time to give away a game at home to an average Boise State team. Ohio State looked good, but they are ineligible for postseason play. Iowa barely beat Northern Illinois. It took Minnesota 3 OTs to beat UNLV. Wisconsin survived a scare from FCS Northern Iowa. Illinois was underwhelming. Obviously Indiana is bad. And finally, in what was supposed to be a healing game for Penn State, they managed just 14 points and lost to Ohio. It could have been a huge week for the Big Ten, but ouch.
#2 WEST VIRGINIA HAS A GOOD CHANCE AT 2 HEISMAN FINALISTS
Geno Smith and Tavon Austin destroyed the Marshall defense on Saturday. Austin had 3 TDs, and Geno Smith threw 4 and ran for another on a busted play. Their offense is quite possibly the best in the country and easily the best in the Big 12. This team is scary good on offense.
#3 OKLAHOMA IS VASTLY OVERRATED
Thru 3 quarters, they were even with UTEP, who, let's be honest, is a very average team. Landry Jones is not a top-10, and maybe not even a 1st round pick. Their defense is good, but their skill players and offensive line need some serious work. I wouldn't be shocked if the Sooners lost 4 games.
#4 USC's OFFENSE IS THE REAL DEAL
The first play of the season was a 75-yard touchdown. Marqise Lee is fast, and Robert Woods is great complementing him. Silas Redd was outstanding, averaging 7.6 yards per touch. And obviously, Matt Barkley is immortal and will be the 1st pick in the 2013 NFL Draft and future NFL Hall of Famer. Book it. The USC defense though could be concern, so keep your eyes on them.
#5 ALABAMA DOESN'T REBUILD, THEY RELOAD
The Tide just absolutely murdered Michigan on Saturday in Arlington. They lost 5 players in the top 35 picks of the NFL Draft a year ago and yet still have a defense that could be the best in the SEC. Their running back situation is as good as it was last year despite the loss of Trent Richardson. TJ Yeldun is a beast. As long as Nick Saban is in Tuscaloosa, expect more of the same.
#6 THIS MAY BE THE YEAR OF THE MAC
Ohio handled Penn State and really outplayed the Nittany Lions. Northern Illinois coulda, and probably shoulda, beat Iowa. Miami Ohio got destroyed in Columbus, but other than that, I like what I saw out of the top teams in the MAC. Remember quite a few years back when Gameday was at the Bowling Green-Northern Illinois game because both were ranked? I think it could be that kind of year again.
#7 MIAMI IS ON THEIR WAY BACK
They still have a long, long way to go, but they are definitely on the right track. Stephen Morris is a nice solution at QB and they have the same athletes they have always had at the skill positions. Their defense needs a lot of work, but the best thing about this current group is the fact that they have discipline, something that recent Miami teams have lacked. They may not even be good this year, but it's easy to tell they're on the right track. Good work, Al Golden.
#8 TENNESSEE MAY NOT MISS DA'RICK ROGERS
Cordarrelle Patterson may just be the real deal for the Vols. He had 2 breathtaking TDs on Friday night, the 2nd of which was a long reverse play where he made a cut that was just stupid. I like this JC transfer a ton, and I think people will forget the name Da'Rick Rogers by the end of the year.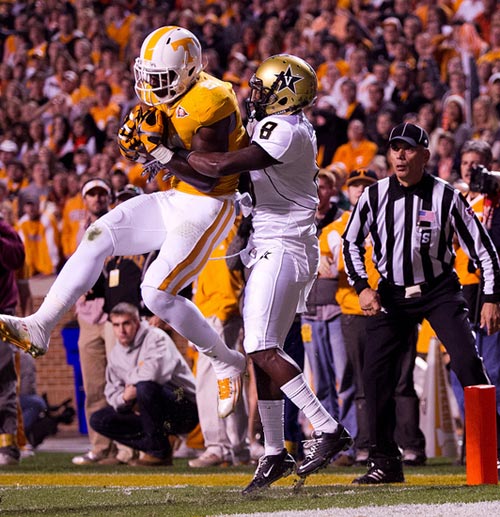 #9 THE MIDDLE AND BOTTOM OF THE SEC ARE SUSPECT
Florid was terrible. Georgia was average. South Carolina was underwhelming. Arkansas wasn't good. Auburn was awful. Kentucky was bad. I mean, outside of Alabama and LSU, this conference isn't as great as it recently has been.
#10 BAYLOR MAY BE GOOD AGAIN
Nick Florence is no RG3 and they have no Kendall Wright on the outside, but the Baylor offense was still very impressive Sunday, and their defense looked like an improvement over last year. Art Briles doesn't get the national credit he deserves, but he is one of the best coaches in America.
#11 THE PAC-12 HAS JUST 2 GOOD TEAMS
Oregon and USC are good, obviously. However, the rest of the Pac-12 is average to well-below average. Stanford showed that it has a long way to go to get back to Luck-era success. And really, other than Washington and possibly UCLA, everyone else is really terrible. And UCLA may wind up being terrible too.
#12 OREGON HAS AS MUCH SPEED AS ANYONE
This Oregon offense is just plain fun to watch. Nobody in America is as fast as De'Anthony Thomas and Kenjon Barner has been underrated for the last 3 years. Those 2 guys provide a ridiculous 1-2 punch for the Ducks, and Marcus Mariota is as good as dual-threat QBs come. This team is scary good, and I'm already looking forward to Oregon-USC on Novemeber 3.
#13 BE THERE SATURDAY IN COLLEGE STATION, TX
Gameday will be in College Station on Saturday for A&M-Florida, so clearly they are expecting a raucous crowd. And so am I. It's not so much about the game, because both teams are just about middle of the road, but the environment and the gameday atmosphere will be second to none in all of college football this entire season.
#14 WILL MUSCHAMP'S CLOCK IS TICKING AT FLORIDA
Florida is coming off a 7-6 season and struggled to beat Bowling Green at home on Saturday. They were completely inept on offense, and their defense, Muschamp's specialty, didn't even look very good. He needs to get it together soon or he could be out the door after this year.
#15 LOUISVILLE IS VERY VERY GOOD
Louisville isn't talked about nationally very much, but they are good. Bridgewater is an incredible QB and could be a potential NFL-type QB. Probably not a starter, but he could be a project that could work out. Charlie Strong will be a candidate for more high-profile jobs, but I'm curious if he takes them or not. I love this Louisville team, and I wouldn't put it past them to go undefeated. Keep your eyes on them. They are an essential lock for the BCS.
Check back for more next week!
Gear up for Week 2 with Sporting News:
http://aol.sportingnews.com/ncaa-football/story/2012-09-01/college-football-week-2-schedule-2012-marquee-games-times-ncaa