Where Will Donovan McNabb Return to Play?
Has everyone heard that Donovan McNabb still wants to play in the NFL and says he's 80-90 percent likely to take snaps in 2012? Apparently there are three teams that are highly interested in the veteran's services.
What is McNabb thinking? He's 35 and sat out most of last year after he was released by Minnesota and replaced by rookie quarterback Christian Ponder. McNabb now has a gig as an analyst and is actually pretty good at it. I personally enjoyed listening to McNabb on the debate desk on ESPN First Take, taking on Skip Bayless.
I'm not saying McNabb can't compete in the NFL at age 35. Don't get me wrong, he is still in great shape and is a proven leader. But if I'm in the front office I'd bring McNabb in as my backup for leadership over a young signal caller or just to have a legit backup in case the worst happens. And we all know how important it is to have a good backup these days (just ask Indy). But ever since McNabb left Philadelphia is career has been on a downward spiral. He couldn't get the job done in Washington and fell flat in Minnesota. And knowing McNabb he'll want to start, not be a backup. That has to limit his potential landing spots, but some think he'll consider being a backup in the right system. That's a tough pill to swallow, especially for someone who thinks they are a Hall of Famer, despite never winning the big game.
I have to disagree though. Despite McNabb's desire to win a Super Bowl, I can't see him taking a backseat – not even to someone as elite as Aaron Rodgers of Green Bay. I could see him going to Arizona and competing with his former backup, Kevin Kolb, for the starting job. The Cardinals have a solid running game with Beanie Wells and one of the best receivers in the NFL in Larry Fitzgerald. Arizona also drafted a nice compliment to Fitzgerald in April's draft: Michael Floyd. Could this be fit for McNabb? Of course, but I don't think the Cardinals would do this move. Just think what it would do to Kolb's confidence if McNabb joins the team? It would be the end of his short-lived role as a starter in the NFL.
How about the Jaguars? They have a great running game – if they can ever please Maurice Jones-Drew with a new contract. Jacksonville also decided to get some receivers this offseason with Laurent Robinson and Justin Blackmon. Is this a promising franchise for McNabb? Yes, but would he make them a playoff contender, which he wants to be? I'm leaning towards no. Would he be an improvement over what Jacksonville has right now?I believe McNabb would be able to do just as good as second-year signal caller Blaine Gabbert and Chad Henne. The defense is good, but I don't think the offense is where it needs to be to make a run for the playoffs, so McNabb probably won't be heading to Jacksonville.
Staying in Florida, how about Miami? The Dolphins have former Jaguars quarterback David Garrard, Matt Moore and rookie Ryan Tannehill competing for the starting job. Would they risk bringing in another veteran to add to the mix? I'm not sold on any of the quarterbacks in Miami's stable, but if McNabb somehow was the starter I see the same scenario happening that occurred in Minnesota last season. McNabb would be lackluster for a few games and give way to the rookie (Tannehill) leaving the veteran to ponder where he'll end up next.
What about New York? He could join the Jets and add to the quarterback controversy there, which would definitely add some more headlines. But if New York truly isn't all about making news off the field, this will never happen. Then again, you never know what to expect in New York. As for the Giants, I don't see him taking a backseat to Eli Manning. It'd be crazy if he ended up winning that elusive championship on his third team in the NFC East though. Still, McNabb landing with either the Jets or Giants is extremely unlikely. I just wanted to throw out another scenario to debate about.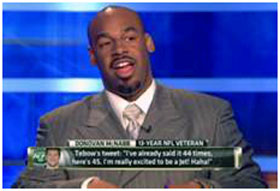 McNabb would an interesting fit in San Francisco. They are a contender, have a great defense and have a nice bunch of running backs that will likely rumble for more than 2,000 yards this season. The only problem is the 49ers have committed to Alex Smith as the starter. I think San Fran would be the team he goes to, if, he'd be willing to be the backup. Smith, unlike Aaron Rodgers, isn't an elite quarterback, so there is always a longshot that the 49ers turn to McNabb if Smith struggles. All the pieces are there, so San Francisco would be an intriguing place for McNabb to settle.
When it is all said and done, San Francisco seems like the best option for McNabb. If he wants the best chance to start, he'd better go to Arizona. And if he wants a title he'd take a backseat to Rodgers in Green Bay. If you ask me I think McNabb should just retire and continue his gig as an NFL analyst. He has a good voice for and is one of the better former athletes in front of the camera. So if McNabb is reading this, take my advice. Retire and make good money working for the NFL Network or ESPN and stay out of the path of Michael Strahan.