College Football Rankings 2012: The Top 25
By Matt Green
Due to the fact that I have been extremely busy, I decided it would be impossible to finish my College Football Top 25 previews for every team, I have decided to just rank them here in one column with a comment for each one. Please forgive me for not being able to finish the other previews.
#1 ALABAMA CRIMSON TIDE
They lost a lot of guys from last year, from Upshaw to Barron to Hightower to Kirkpatrick to Trent Richardson, any other program would be depleted. But Alabama has re-loaded, have their QB returning, and have one of the best offensive lines in all of college football. Their defense will always be solid when Kirby Smart and Saban are around. There could be a repeat in college football this year. Roll Tide!
#2 USC TROJANS
MattBarkleyMattBarkleyMattBarkleyMattBarkleyMattBarkleyMattBarkleyMattBarkleyMattBarkley MattBarkleyMattBarkleyMattBarkleyMattBarkley MattBarkleyMattBarkleyMattBarkley. And their skill players are pretty darn good as well, especially with the Penn State transfer Silas Redd providing some RB depth. The defense is the question mark, but if they can just keep the offense in the game, the Trojans should be alright. Fight On!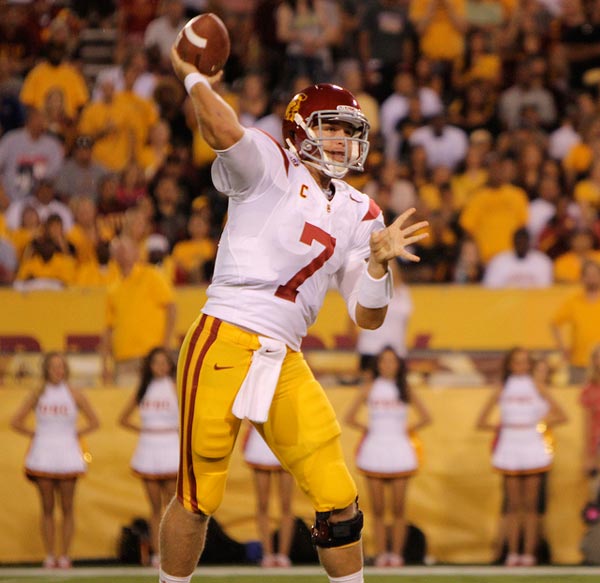 #3 LSU TIGERS
The Honey Badger is gone, but let's be honest, they are LSU: they have enough talent to cover for that loss. He was an average cover corner, although he was a great playmaker. They finally have a good QB in Baton Rouge after making the national title game in 2011 without a decent one. Their defensive line is probably the best in the land, and this team will be just fine. LSU fans, don't worry. Geaux Tigers!
#4 OREGON DUCKS
Year after year, despite average to below-average defensive recruiting, Chip Kelly and his staff are able to field a team that competes for championships on all levels. Their offense is second to none and should be again this year. De'Anthony Thomas, Kenjon Barner and co. provide unrivaled speed at the skill positions that has and will continue to give Pac-12 defense's fits.
#5 WEST VIRGINIA MOUNTAINEERS
Yes, I am aware of how high I am ranking the Mountaineers, but I'm big on these guys this year. They return 9 offensive starters including Heisman hopeful Geno Smith. They have speed all over the offense as well. Obviously, the defense will be the concern, as it always seems to be for Big 12 teams other than Texas, who have their own set of major issues. WVU has a lot of returners on defense as well, but they weren't that great last year, so who knows how they will rebound in 2012.
#6 FLORIDA STATE SEMINOLES
Every year, Florida State is overrated in preseason polls, and they probably are again here. They have a decent offense as always, but it never seems to be great. Their defense again is solid as well. They are good across the board but don't really have anything that stands out as national championship-caliber.
#7 GEORGIA BULLDOGS
People doubt the Bulldogs every year, and they probably have reason to. I would have had them in the top 5 at the beginning of the summer, but the loss of Isaiah Crowell and the 4-game suspension of Bacari Rambo have me worried. Aaron Murray is a quarterback that doesn't get enough love nationally, and Mark Richt is trying to get some job security that has been lacking. Go Dawgs!
#8 OKLAHOMA SOONERS
As per usual, OU is incredibly overrated early in the year. Landry Jones has never proven he can win the big game, and their defense has some major holes in it. Even the skill positions are incredibly mediocre this year. Frankly, I don't know how I have the Sooners this high, but I guess they're slightly better than those below them. Boomer Sooner!
#9 WISCONSIN BADGERS
Underrated every single season, the Badgers consistently win 9 or 10 games and make the Rose Bowl. They have the best running game in America outside of Oregon, and they have yet another transfer QB coming in the person of Danny O-Brien. Bret Bielema is an outstanding coach and deserves more respect than he gets. They should be able to take advantage of a relatively weak Big Ten, outside of...
#10 MICHIGAN WOLVERINES
This is a tentative #10 ranking, but Denard Robinson provides the star power they need, but outside of him, there's a lot of mediocre football players. Their defense is good, not great, and their skill players are nothing to write home about. On top of all that, they will not be able to sneak up on people like they did a year ago when they were not considered a top team.
#11 SOUTH CAROLINA GAMECOCKS
I want to rank them higher, but the QB situation is still not what I want it to be. They need consistency from Connor Shaw at QB, and I need to see if they can replace Ingram on that defense. Lattimore is a beast at RB, and if they are going to remain in a national or SEC title hunt, he is going to need to carry the load the entire season.
#12 ARKANSAS RAZORBACKS
Most rankings have them much, much higher than this, but with all the coaching staff turnover this summer and the loss of quite a few solid receivers, I worry about the lack of continuity in the program. Tyler Wilson is about as good as they come at SEC QB and the return of Knile Davis should help in the backfield, but their defense and coaching staff worry me.
#13 MICHIGAN STATE SPARTANS
They definitely lost a lot from a year ago, but they also have one of the more underrated coaching staffs in America and a very good defense. They lost a lot and could have some trouble on the offensive side, but they play in the Big Ten, so a top-notch offense isn't always the absolute most important thing.
#14 CLEMSON TIGERS
Tajh Boyd returns as the signal-caller for the Tigers, and, while Sammy Watkins' suspension really hurts for the Auburn game, it will be the defense that will be put to the test this year. They are coming off the Orange Bowl in which they gave up 70 points to West Virginia. Their defense must rebound well and be able to keep that potent offense in games if Clemson wants to have a chance.
For the final 10, check out my team-by-team previews, starting with Ohio State below!