NFL Divisional Previews: The NFC West
Each offseason NFL teams have to reload via the draft, free agency or trades. With these moves bring new issues every year, which is part of the reason fans love the build-up to the next season. In this series of blogs I'll address an issue facing each team in the NFL. Some may be bigger than others and some teams may have more issues to deal with as well, but I'll only focus on one for now. Let's take a look at the NFC West.
Let's start with the Cardinals. Arizona finally saw what a somewhat healthy Beanie Wells can do, which is a plus. Though they need someone to step up to compliment Wells, the running game is not the biggest issue for this team. The Cards made a trade for Kevin Kolb to be the starting quarterback and he has not lived up to the expectations just yet. Between injuries (concussions and toe issues) and his lackluster statistics, Kolb has left a lot to be desired. Enter John Skelton, who played very comparable to Kolb. Both threw under 2,000 yards and averaged around seven yards per pass. Kolb owned a 9-to-8 touchdown-to-interception ratio, while Skelton posted an 11-to-14 ratio.
Seeing how the Cardinals traded a second-round pick and cornerback Dominique Rodgers-Cromartie to Philly for Kolb, many questioned whether it made Arizona better. Well it hasn't yet helped them yet as they posted a .500 record in 2011. For the Cardinals to progress they need Kolb to become the leader of the offense and be accountable for the ups and downs throughout the year. It isn't like he doesn't have any weapons to throw to as the Cards have Wells, Larry Fitzgerald and rookie wide receiver Michael Floyd. If Kolb doesn't develop into the quarterback Arizona thought they trade for look for the Cardinals to cut ties with Kolb and move on yet again as they continue to search for a suitable replacement for the retired Kurt Warner.
Despite having a great rushing attack and one of the best defenses in the league the 49ers lacked a steady passing game. I give coach Jim Harbaugh credit as he stuck with Alex Smith and let him lead the team to the playoffs. But he'll need to average more than 183 yards per contest in 2012 if San Francisco thinks they'll be able to reach the Super Bowl. While Smith was efficient, tossing 17 touchdowns and just five interceptions, those numbers won't cut it in the NFL. San Francisco made some splashes this offseason as they signed running back Brandon Jacobs to compliment Frank Gore. They also brought retired receiver Randy Moss back into the league. Moss took last season off after a disappointing year in 2010 as he saw action with three teams, but compiled just 393 yards and five touchdowns in 16 games.
So now Moss joins Michael Crabtree atop the depth chart for the 49ers. Let's not forget about tight end Vernon Davis either, who is one of the best in the business, and a few other signings San Fran made. They brought in another former Giant, Mario Manningham, who made some spectacular catchers in the Super Bowl last year. Last but certainly not least is A.J. Jenkins, a rookie out of Illinois, who rounds out the receiving corps. If Smith can't produce better numbers this year with his weapons, it may be his last in San Francisco.
Seattle has a new sheriff in town and his name is Matt Flynn. While the quarterback competition is still wide open for the Seahawks, Flynn is definitely the favorite as he was the team's big offseason signing. Flynn chose Seattle over the likes of Miami – where is former offensive coordinator is now the coach – to continue his playing career at. Granted Flynn didn't play much during his first four years in the league as backed up Aaron Rodgers in Green Bay. Seattle averaged 194 passing yards per contest last season, so there is a lot of work that needs to be done. Flynn and Tarvaris Jackson are the front runners for the starting gig, with Josh Portis and rookie Russell Wilson waiting in the wings.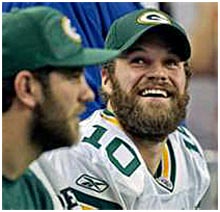 I think Flynn gives the Seahawks the best chance to win. Head coach Pete Carroll had a knack for getting the best out of his quarterbacks while at USC, so only time will tell how that translates this season. I have a feeling the Seahawks will win between seven and nine games this year, which is on par with what they did last season – 7-9. This team is a few steps away from being a playoff contender, but if Flynn takes a big step in 2012 they may get there sooner than expected.
Where to begin with the Rams. St. Louis made me look stupid last year as I thought they were going to surprise a lot of teams and make the playoffs. Boy was I wrong. The Rams didn't win a game in the NFC West and struggled to a 2-14 record. The offense was stagnant in 2011 as quarterback Sam Bradford threw for just 2,164 yards and six touchdowns. He'll have his work cut out again in 2012 as his leading receiver is no longer on the squad. Brandon Lloyd is now a member of the Patriots, leaving Brandon Gibson as the top target for Bradford. The Rams will get Danny Amendola back after he suffered a season-ending leg injury last year, so he'll bolster the receiving corps.
St. Louis could have gotten Justin Blackmon from Oklahoma State in this year's draft, but decided to trade down a few times to gain more picks. They also lost out on Michael Floyd and settled for Brian Quick in the second round. Only time will tell if trading back so many times and not selecting a receiver earlier in the draft will come back to bite them in the butt. Either way the Rams have a mountain to climb this year if they want to be relevant late in the season.
Please Read These Other Related Articles: