NFL Free Agency: The Best Defensive Replacements
Last week, we took a look at some of the best remaining offensive players left looking for work, as teams got ready for training camp and the 2012 NFL season. Now it's time to flip the field and look at the defenders that could be chasing them down, if teams are willing to give them a shot.
The level of quality of the defensive corps waiting on the street, however, is notably lower than that of the offensive free agents, for a number of reasons – the higher degree of platooning and rotation present in the front seven, less talented players trying to come back from injuries, and just the general ebb and flow of contracts expiring has drained the talent pool significantly. Still, there are some good players out there who could make a difference for teams this season.
DE Andre Carter (New England) and Matt Roth (Jacksonville)
One of those players trying to crawl back from an injury last season also happens to be one of the highest quality free agents out there, period – Andre Carter. Carter is coming off his first pro bowl season, though he is getting up there in age. Although he struggled in Mike Shanahan's 3-4 defense as an outside linebacker, moving to New England revitalized him. However, in a December game against the Broncos, he tore his left quad and had to undergo season ending surgery, and the Patriots signed a number of linemen in free agency and took more in the draft, possibly reducing the chance he would return to the squad. Many around the league, however, expect him to end up back with New England if his recovery continues at its current pace, and if not, some 4-3 team will take a shot at the 33 year old sackmaster.
Matt Roth is another player trying to cope with injuries – he suffered concussion syndromes at the end of 2011. He only started nine games for Jacksonville, but managed 24 tackles and 3.5 sacks, and was an integral part of the Jaguar pass rush before his injuries. He's been cleared to return to action, and, while teams are rightfully hesitant of the possibility of recurring symptoms from the concussion, he could see work as a situational pass rusher at either defensive end or outside linebacker – unspectacular, but solid, Roth could work well in a rotation system.
DT Albert Haynesworth (Tampa Bay) and Marcus Thomas (Denver)
Even mentioning his name brings with it a ton of baggage, but it's easy to forget that just a few seasons ago, Albert Haynesworth was arguably the most feared defensive player in the league. Then, he became a free agent, and got paid – and that seemed to be the end of his effort. Lackluster stints with the Redskins led to him being named by NFL.com as the worst free agent of the last decade, and then to him bouncing around the league last year – Bill Belicheck couldn't get anything out of him in New England, and while he played better in Tampa Bay, starting six of the last games of the season, he wasn't worth anything near his $7.5 million price tag. The trick with Haynesworth is getting him to give effort – something he last did under Jeff Fisher, new head coach for the St. Louis Rams. Could Haynesworth be headed back to his old coach? It certainly seems a possibility, and with a player of Haynesworth's talent, someone will bite the bullet and take the risk.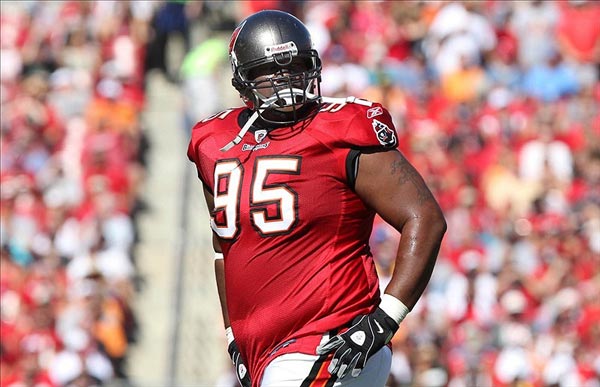 Marcus Thomas, in his five career, has sacked the quarterback one time, getting Mark Sanchez in a '10 game against the Jets. Why, then, did he last so long with the Broncos? It's his very solid work clogging up holes in the run game – he's never going to be what qualifies as a glamour player in the trenches, but has been a productive player for Denver throughout . The Broncos offered Thomas a one-year deal to return, but he was holding out, trying to get a multi-year deal somewhere. The offers haven't come, and the Broncos have looked at other options, like Ty Warren, but Thomas will probably bite the bullet and take a one-year deal from someone, somewhere.
OLB Ernie Sims (Indianapolis) and Thomas Williams (Carolina)
Look upon the lack of depth and despair. There weren't many big free agents at the outside linebacker position to begin this offseason, and the pickings have only gotten slimmer. Still, there are a couple young players with potential out there, looking for a job. Ernie Sims essentially added nothing to a horrible Colts team last season, but has had several solid seasons before that, first on a rebuilding Lions team and then as a starter in Philadelphia in 2010. No one produced anything in Indianapolis last year, so it's hard to judge Sims based on his injury-plagued season, but he was a solid starter in his first years in the league, and is only 27. The Dolphins worked him out back in April, but news has been slow since then. He could still contribute as a body in a camp, however, as he tries to regain some of his form. Williams is also a camp body type name at this point – most people will remember him, if at all, only from his time at USC, where he filled in at all linebacker positions, fullback, and special teams. That versatility puts him slightly ahead of a pack filled with players who will mostly be not in the league this season.
ILB EJ Henderson (Minnesota)
EJ Henderson is an ex-Pro Bowl linebacker who has spent his entire career as a solid starter in Minnesota, but age and injuries have begun to catch up with him, and he is now more of a liability in coverage than an asset. The Vikings chose to let the eight year starter go as part of their general youth movement on defense. Henderson isn't likely to be an every down starter on a team as he has been in the past, but is a firm, fundamentally sound player, who can still offer a great deal of help in run protection, perhaps as part of a rotation at the position. Henderson was still effective last season, if nowhere near his 2010 high, and will almost surely find a spot somewhere as time ticks by.
CB Byron Westbrook (Washington) and Drew Coleman (Jacksonville)
The depth at the cornerback position might be worse than that at the outside linebacker spot. Westbrook is best known for being running back Brian's little brother, while Coleman was a surprising cut from the Jaguars but is, at best, a slot cover player who struggled to find playing time, first for the Jets and then last season with Jacksonville. It's the reaction to the increased demand for wide receivers due to the increasing prevalence of the spread offense at the NFL level – any cornerback with a shot at starting anywhere has been signed, as teams try to keep up with the ever-exploding offense of the modern NFL.
SS Jim Leonhard (NY Jets) and FS Nick Collins (Green Bay)
More interesting is the back side of the secondary, which still has two very talented players with huge injury questions looming over their heads, still looking for their team in 2012. Leonhard has been a consistent starter for the past four years, as he followed Rex Ryan from Baltimore to the Jets, but he tore his patellar tendon in December and won't be ready for the start of the season. Leonhard was the play caller and an on field leader for the Jets, and as such, Ryan has been unwilling to rule out resigning Leonhard later, but the fact is he simply has not been able to work out for teams, yet. His potential impact in 2012 is a mystery, and signing him would be a complete gamble – but one the Jets will likely make.
However, Leonhard isn't nearly as big a gamble as Collins. Nick Collins isn't a solid player like Leonhard – he's a three time pro-bowler with amazing talent, and has been an anchor of Green Bay's defense since his rookie season. Yet, the Packers let him loose this offseason – and for good reason. In September, against Carolina, Collins suffered a horrible neck injury, spending the night in a hospital in Charlotte. The Packers question his ability to ever return to football – and whether it would be wise for him to return at all. They simply do not feel comfortable ever clearing him, medically, to return to football. Collins' agent reports that he has been getting calls asking about Collins' ability to play again, and Collins has yet to decide whether or not to retire or continue his career. The Packers, however, have moved on, auditioning a number of young, borderline players to take the roster spot vacated by Collins' injury.
And so we return full circle. Injuries are, sadly, a part of the game. No matter how much the NFL and the players strive to increase the safety of the game, it's a game where three hundred pound men collide into one another. Someone will get hurt, but the season goes on – someone has to step up to fill these gaps. Somewhere, a player without a contract is warming up, just waiting for his one chance to get back into the league. No team wants to have to get into contact with a player on one of these lists, but at least one of these names will surely make an impact for someone, somewhere, in the 2012 season.