Ranking the Quarterbacks in 2012 NFL Draft
1. Andrew Luck, Junior - Stanford
Ok, where in the world do I start? We all know that Luck, barring some Billy Pilgrim-esc mental lapse, is going to be the #1 overall pick in the 2012 Draft"¦and rightfully so! He's the second coming of the prodigal son that lured the Colts out of their dark ages in 1998, except with the athleticism and mobility to compliment his golden arm. I'm not trying to go buck wild here and say "Oh yeah, Manning's got nothing on this kid. Consider him spoiled goods," but I do think it should be known that if this same Andrew Luck was sitting in the green room with Peyton Manning in '98, I would be taking the Lucky ticket (you knew we weren't escaping this segment without a lame pun) hands down. He was schooled not only for three years in the rigorous coursework at Stanford, but two in the complex pro-style playbook of Jim Harbaugh, making him about as ready as it gets to play professional football and grasp an NFL playbook.
Physically, Luck has all the tools to be mentioned in the same breath with Favre, Elway, and Marino. Mentally, he's going to be compared to the likes of Manning, Montana, and Aikman. His arm strength and accuracy are the stocking stuffers for any NFL offensive coordinator, while his ability to understand what's happening pre-snap and dissect a defensive scheme accordingly are the big present under the tree. Without question, Luck is the most complete player in this draft class, the most pro-ready quarterback to hit the board since Peyton himself, and living proof that there's an upside to every misfortune.
2. Robert Griffin III, Junior - Baylor
There are a lot of things I like about Griffin from a quarterbacking standpoint - his arm, his mobility, and his accuracy while on the move are just a few. Do I think he's the second coming of Michael Vick? Eh, maybe. Do I think he's the second best quarterback in the class of 2011? Absolutely. Do I think it would be wise to trade away the immediate future of your franchise to select him? No!
Griffin stands short of your prototypical quarterback at 6'2", and although I admire his skillset, he still has a lot of work to do before he's ready to step in and be a dynamic Passer at the next level. An NFL playbook is going to be like a whole new language to quarterback whose college motto may as well have been "When in doubt, air it out." I can virtually guarantee that both St. Louis and Minnesota are going to avoid the quarterback route this April, so there shouldn't be any need to trade up unless you decide he's the one player that your franchise absolutely can't live without. He's going to fall to Cleveland, a respectable suitor, and in all likelihood he'll spend 2011 in a brown and orange uniform watching Colt McCoy from the bench. I'm not trying to downplay his talent, I just think it will work to his benefit to watch and learn the ways of the league.
3. Kirk Cousins, Senior - Michigan St.
Here's a guy who I think is getting little-to-no cred for an outstanding body of work. Kirk Cousins threw for over 3,300 yards and 25 scores with a 64% completion rate, meanwhile displaying the ability to throw a football like he was tracing the edge of a ruler. One thing that has me really high on this prospect is the steady improvement he's shown over his three years as the Spartans' starting quarterback, throwing for 2,680 (19 TDs), 2,825 (20 TDs), and 3,316 (25 TDs) respectively. Cousins's persistence and determined work ethic contribute to his constant improvement and undeniable reputation as a fiery leader.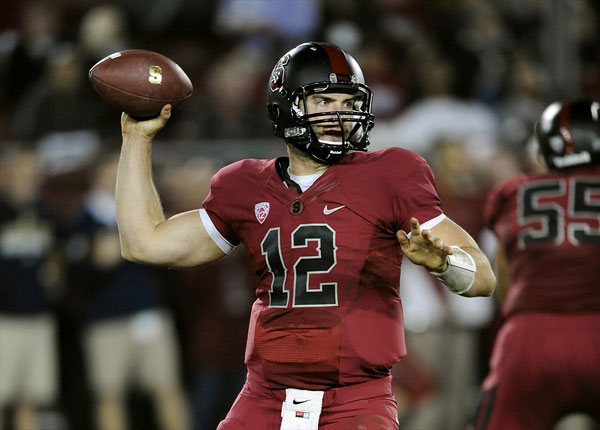 As a passer, Cousins can fit the ball into extremely tight windows and possesses more than enough arm strength to be a starter at the next level someday. His one persisting issue is that he has a bit too much confidence in his arm, occasionally trying to thread nails, thinking that they're needles. He has that aura of a developmental project, but if there is a third quarterback taken in the first round, I think this will be the guy. After seeing what happened with Christian Ponder last year, he may even be a top 15 selection.
4. Ryan Tannehill, Senior - Texas A&M
He certainly has the physique to play NFL football, but does he have the throwing consistency to be a starting quarterback? Tannehill impressed during his Senior season at A&M, tossing for 3,744 yards on the season, but adding 15 picks that weren't just the result of indecision. His arm is powerful and he can be spot-on at times, but its consistency that I believe will ultimately drop him behind Cousins and into the mid-second round.
Standing tall at 6'4" and 222lbs, Tannehill certainly looks the part, accompanied by the mobility of an ex-wideout, he'll definitely be a guy to watch going into training camp. He'll get an opportunity to show what he's made of before the 2012 season draws to an end, and he may have a long-term home in this league if he can handle an NFL blitz and master and NFL route tree.
5. Brandon Weeden, Senior - Oklahoma St.
Brandon Weeden is a 28-year old grown man. Because of this, and this alone, he will not be a first round pick. However, his arm is phenomenal, he has a mature understanding of the game, and was capable of picking apart any defense in college football with the proper weapons at his disposal. His age makes it highly unlikely that anyone will want to try and build their franchise around him, but he has the skills to start in the league and I can guarantee he'll be a contender in one of the summer's QB competitions.
Although he worked in a nonstop passing offense, Weeden approached the 5,000-yard mark, tossing 37 touchdowns en route to a could've-been National Championship bid. Of course, out-dueling Andrew Luck in the 2012 Fiesta Bowl didn't hurt his stock either. Weeden should be picked in the second round to fill a competitive role on a roster with uncertainty at the quarterback position.
6. B.J. Coleman, Senior - Tennessee-Chattanooga
A guy who fell off the radar following his transfer from UT, B.J. Coleman has tons of upside to attract NFL scouts. His arm strength is unquestioned and he has the build you expect to see in a top recruit, but recurring injury problems have somewhat quieted his otherwise promising career. The only non-FBS player on this list, Coleman will have a chance to throw at the combine and prove to NFL scouts that he has the precision to be an effective passer against a real defense. If Coleman keeps his health up, he may one day find himself in a starting quarterback role, but other than that I see him as a great option backup option. I project that he'll be selected in the late third-early fourth round.
7. Nick Foles, Senior - Arizona
Most people would have Foles higher on this list because of his significant arm strength, respectable numbers, and towering physique. At 6'5" and 240lbs, Foles will be on a lot of QB-needy teams' boards heading into the second day, but an overall lack of maturity companied with on-and-off accuracy is ultimately what's going to cost him a spot in the upper-middle class of 2012 quarterbacks. He can boost his stock with strong performances during his personalized combine interviews, but outside of Jon Gruden taking him under his wing and teaching him the ways of the quarterback, I see no scenario that has him competing for a starting spot.
8. John Brantley, Senior - Florida
A guy who was once considered a possible first-round pick, Brantley's stock took a major hit when he actually stepped on the field, sputtering in an unbalanced offense that lacked any sense of rhythm. Brantley stands tall at 6'3" and 220lbs, and at times he's displayed pinpoint accuracy and a majestic deep-ball. At the combine, he'll get the opportunity to show that he's ready for the NFL, both physically and mentally. He'll certainly be a project, but teams have taken risks on way less promising talent In recent years. Brantley could go anywhere from the fourth to seventh round depending on who's willing to take a chance.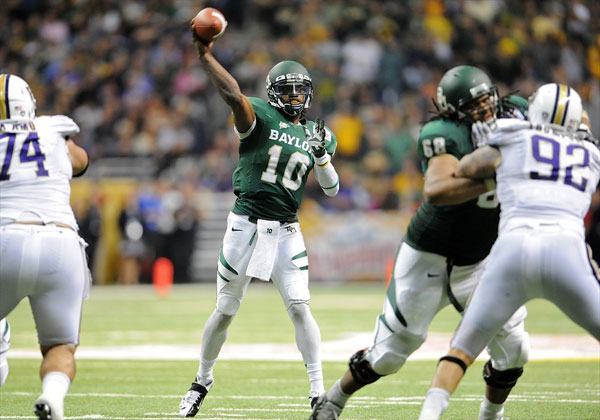 9. Austin Davis, Senior - Southern Miss.
Austin Davis has defied all the odds to get to where he is today. Virtually un-recruited coming out of high school, Davis had to settle for a walk-on option at Southern Mississippi, where four years later he would claim nearly all of Brett Favre's school passing records. Eclipsing 3,000 yards in three out of four seasons (the fourth being shortened significantly by injury), the 6'2", 220lb Senior had no trouble finding his rhythm in a very mature offensive scheme.
With some help from his clock-like footwork and deceptive mobility, Davis was able to lead the Golden Eagles to a 12-2 record, including a Hawaii Bowl victory, during his Senior season. His throwing motion needs a bit of work and he doesn't have the cannon that you see in an NFL starter, but his outstanding leadership qualities will make him a sought after backup in the latter rounds of April's draft.
10. Kellen Moore, Senior - Boise St.
One of the biggest stars in the country during his tenure at Boise State, in reality, Kellen Moore's small size is likely going to be his undoing. Standing at only 6'0" (if that), Moore will barely be able to see over his own center at the next level, and when most of your snaps come from under center, that is going to lead to a lot of problems as far as pre-snap reads go.
Moore's short-game accuracy is on-the-dot, he has a high football IQ, and proved his leadership beyond any argument by winning more games than any FBS team in the country over the same span. His accuracy however, takes a nosedive after roughly 30 yards and that just isn't going to be enough to make a lot of the throws you have to make at the NFL level. As a backup, Moore will certainly be on the boards of plenty of teams and if he can make the most of his time on the field, he has the winner's mentality to play a Charlie Batch-esc role in the league.
Read More Article About: