Ranking the Linebackers in 2012 NFL Draft
1. Luke Kuechly, Junior – Boston College
I have to admit that I wasn't sold on Kuechly at first, but after proving he can run with the best of them at the Combine, I feel confident he'll go in the top half of the 1st round. The 2011 All-American seems to be everywhere at once, displaying extraordinary quickness from sideline to sideline and using his instinctive skills in pass-defense to take away underneath routes as good as any safety in the country. At 6'3" and 237lbs, Kuechly has the necessary size to take on blocks head-on while maintaining the speed and low center of gravity to squeeze underneath them and fill holes like a defensive lineman.
Kuechly isn't the type to miss tackles, but he was never really viewed with any sense of intimidation. His speed, athleticism, and fundamentals will make him valuable to any defense, but don't think he's going to be the franchise-defining linebacker that only comes along about once every five years. He doesn't hit with a lot of force and usually attempts to drag down ball-carriers instead of attacking at the hips and running through them. Luckily for Kuechly, there are plenty of LB-needy teams in the first round, and Arizona and Philadelphia are sure to have him near the top of their draft boards.
2. Dont'a Hightower, Junior – Alabama
Yet another standout underclassman from the Tide's championship defense that many believe would be an adequate unit in the NFL, Hightower roamed the second level of the field with a commanding prowess, reminiscent of a young Aaron Curry. At 6'4" and 260lbs, Hightower has the fear-inspiring build to line up anywhere from a 3-4 outside backer to the dead center of the D in a 4-3. He roams to the ball with the instinctive hunger of a hunting lion, using his muscular upper body to barrel through blockers and de-cleat ball-carriers without any more than a cross-check from his steel-plated forearms.
On the negative end, Hightower has a few major trouble areas that will push him back to borderline round one contention. His speed is not ideal, as he shows a quick burst up-field but struggles back-pedaling and won't be able to line up against most slot receivers at the next level. The former Mr. Tennessee football also has a tendency to over-pursue due to a short attention span between whistles, oft relying solely on what he sees during pre-snap reads. I see Hightower as a late first rounder, but a guy who recorded 83 tackles on a stacked defense might gain more praise in the eyes of others.
3. Keenan Robinson, Senior – Texas
A quick and rather reckless rover linebacker, Robinson brings the same kind of freakish athleticism that we saw in Jason Pierre-Paul's pre-draft workouts. His slender 6'3", 240lb build, complete with mile-long clamp-like limbs, make him the ideal candidate to play outside backer in both a 3-4 and 4-3, possibly contributing at end as well in the latter.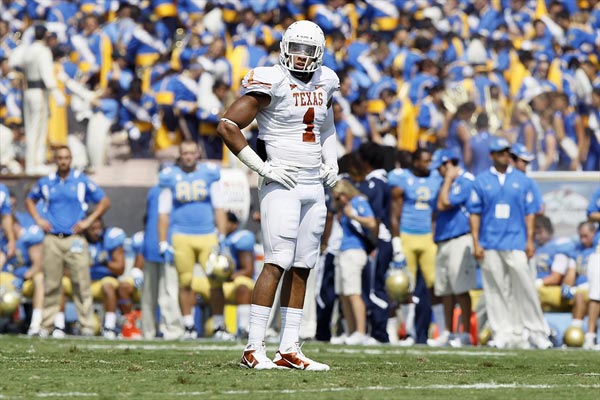 Robinson plays with an upright poise, allowing him to cut and swim through blockers with relative ease but often forcing him into drag tackles, unable to stop momentum due to his high center of gravity. UT didn't utilize the Butkus award semifinalists pass-rushing talents as often as they should have, but his quick maneuverability from sideline-to-sideline leaves the impression that he's capable of dancing past left tackles at the next level once he's taught proper handwork. Robinson is highly applicable in coverage as well, displaying a lightning-fast drop step and near-immediate reaction time breaking down on short routes. His elevated size allows him to avoid mismatches with taller receivers and tight ends. His colorful array of talents should place him in the early-second round.
4. Vontaze Burfict, Junior – Arizona St.
Without question the meanest, nastiest, most intimidatingly reckless son-of-a-gun in the class of 2011, Vontaze Burfict has a huge attitude asterisk, but may end up bringing your team just the defensive spark it needs. A Pre-Season AP All-American, Burfict's aggressive and unapologetic style of play was earning him a reputation as the NCAA's bad boy, backing up his status as a top-15 pick with solid career statistics and an obvious winner's mentality.
However, things started to take a turn for the worst when questions about Vontaze's speed and agility came into play, highlighting his oft-embarrassing struggles in pass-defense. The linebacker's bold 6'3", 250lb frame had scouts entering the NFL Combine with high hopes for the young talent, looking for proof that his physical ability outweighed his risk factor. But Burfict's stock plunged after he proved what was essentially the worst possible thing he could prove - he was slow, he had rage issues, and he wasn't a team player – in kinder words telling the media the reason for his statistical decline in 2011 was "all the coaches' fault."
His on the field achievements should make Burfict an intriguing story to follow on draft day, seeing as how there are always teams in the market for a game-changing defensive presence. It'd be fun to place bets on how much money his attitude is going to cost him, but I'd bet it equates to somewhere in the range of $2.5-$3,000,000 bucks a year depending on where you had him ranked before his premature slide to the D-list.
5. Travis Lewis, Senior – Oklahoma
Mainly a pass-rush specialist, Lewis rode his hard hits and unmatched aggression to stardom amongst a talented corps of OU linebackers. Lewis's quickness and smoothness when breaking down in the open field made him viable on multiple levels, enabling him to deliver powerful blows after short completions. Where the team captain and 4-year starter struggled, however, was in containment. Lewis's "ask questions later" mentality frequently caused him to over-pursue and miss tackles that would've been his for the taking had he stayed put. Otherwise, his tackling is solid, his coverage skills are respectable and I can see him being an early-third round pick.
6. Zach Brown, Senior – North Carolina
Likely the best coverage linebacker in the class of 2011, Zach Brown gets himself noticed with the help of his straight-line speed and elusive agility. A smidgen smaller than most at 6'2", Brown weighed in at an out-of-shape 244 at the Combine, but still managed to leave scouts in awe after running a 4.50 flat 40-yard dash with his newly acquired flab. Brown's ability to make plays across the field, skillfully maneuvering through opposing blocking schemes, is precisely what earned him All-ACC honors after his breakout 2011 campaign.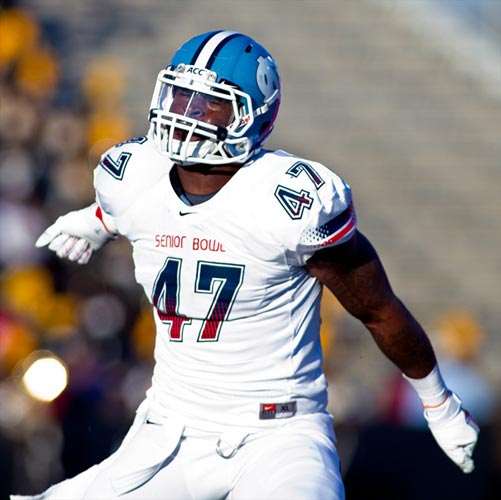 Brown sometimes appears to shy away from physicality, preferring to dance around blockers rather than engage them head-on. Although his speed and burst are impressive, they won't do him much good at the next level if he doesn't improve his read-and-react mentality to avoid being stranded away from the ball. I can see a move to safety if he drops recently acquired baggage, helping him to better utilize his physical gifts.
7. Audie Cole, Senior – N.C. State
This 4-year starter showed commendable leadership and a knack for making plays all over the field during his tenure with the Wolfpack. Cole may not be an elite athlete, but in a shallow linebacker class he has the chance to convert his long-standing and noteworthy stats into a second round draft grade. Recording 107 tackles in his Senior season alone, Cole has proven to be a consistent presence in the middle of an experienced core of linebackers. His instinctive play makes him a desirable every-down player, capable of contributing affluently in zone coverage thanks to his ability to read and react at a remarkable pace. Not a star at the next level, but a high-character player who's definitely talented enough to compete for a starting spot during the upcoming season.
8. Adrien Cole, Senior – Louisiana Tech
This hard-hitting team captain displays extraordinary quickness for his stubby size. During the 2011 season, Cole exploded to the ball en route to a 122 tackle season, leading the upstart Bulldogs' D to a WAC Championship. Although he isn't exactly a towering figure at only 5'11", his heartfelt and disciplined style of play make him ferocious threat both as a pass-rusher and a box defender. Cole also displays great sideline-to-sideline range, bringing a presumptuous read-and-react mentality to a position where discipline is increasingly crucial. The size issue puts Cole at an immediate disadvantage, but from an NFL-readiness spectrum I see him as a mid-third round pick who will excel in short-yardage and other situational packages at the next level.
9. Tank Carder, Senior – TCU
A bold and bulky force on the inside, Tank Carder was feared throughout the Mountain West because of knock 'em out mentality that LL Cool J himself would respect. Entering the 2011 season on just the watch-list for just about every award a defensive player can be nominated for, Carder made his name mandating the box in the middle of the Horned Frog defense, blowing up gaps and assuring that if the D was beaten, they were going to be beaten outside the tackles. Also a very smart, instinctive leader, the 2011 Rose Bowl MVP does what he can in the passing game, clouding passing lanes effectively when he struggles to force his way to the quarterback.
In obvious passing situations, coaches may want to just sub in a new man, for Carder simply doesn't have the agility or quick hips to keep up with even the laziest route runners. His inept speed limited skillset may detain him to a part-time roll in the NFL, but nevertheless you can plan on seeing plenty of helmet-dislodging blows from this guy next year.
10. Sean Spence, Senior – Miami
Another potential safety at the next level, Sean Spence's less-than-ideal (6'0", 224lbs) size hurts his draft stock, but his versatility and dangerous presence in blitz packages will make him an interesting player to keep an eye on. A graduate of famed Miami Northwestern HS, this battle-tested disruptor concluded his collegiate career as UM's all-time leader in tackles-for-loss and put an exclamation point on his resume with 106 tackles during his Senior year.
Perceived as significantly quicker on the field than his Combine results indicate, Spence is going to have leave a lasting impression in his individual workouts if he has any hopes of being picked any higher than the fourth round. The 2011 All-ACC selection will have to rely on his hustle and be open to seeing a limited number of snaps if he's to be a contributor at the next level.
Related Readings: