Top Defensive Tackles in 2012 NFL Draft
Defensive Tackles 2012
1. Donatri Poe, Senior – Memphis
If any player has benefited from the time-tested workouts at the NFL Combine, it has to be Donatri Poe. Forget dropping 44 bench reps at 225lbs, how many people can you name who weigh 350lbs and can still manage to walk up a flight of stairs, let alone run a sub 5-second 40-yard dash. Poe demonstrates jaw-dropping athleticism for a man his size, using uncharacteristic lateral quickness and mechanical handwork to consistently make an impact in the backfield.
With all the physical tools at his disposal, I wouldn't be surprised if there was a team willing to use a top-10 pick on this mid-major talent. He has the look of a solidified nose guard, but his measurables make him accessible in a 4-3 tackle or a 3-4 end spot as well. Poe is going to be a force plugging the interior in the league, carrying a 6'4", 348lb body with the moves of a ballerina through the line of scrimmage and using his deceptive speed and moves to wreak havoc on pocket quarterbacks.
2. Jerel Worthy, Junior – Michigan St.
At 6'3" and 310lbs, Worthy showed that he could be a stick of dynamite in the middle of the line-of-scrimmage, using his explosive first step to blow up the interior line and testing an instinctive array of moves to make plays in the backfield. The anchor of the Spartans' 5th ranked total defense, this monstrous middle-man simply cannot be controlled with a man-to-man block on the inside. Even double teams are forcefully drifted side-to-side by this powerful plug.
Worthy has drawn a lot of comparisons to Albert Haynesworth, both for his relentless presence when controlling opponents' rushing games and for his occasional laziness and lack of effort on the field. He's put together some great film, worthy of top-15 pick, but questions surrounding his attitude will likely push him back into the late first round. A discipline-minded defense, like that of Green Bay or Denver, is what I believe would best suit him.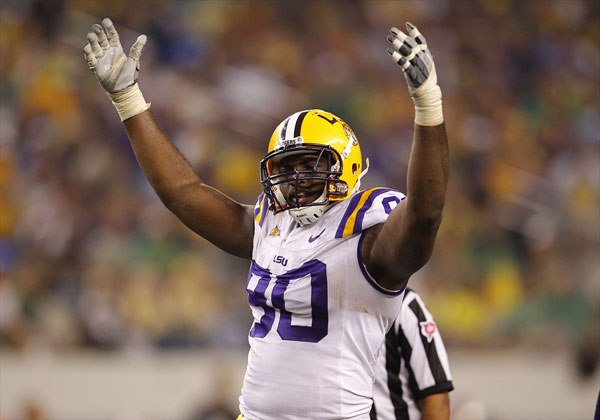 3. Michael Brockers, Sophomore – LSU
After some disappointing workout numbers including a 40-time that most players could have beat running backwards, Brockers's stock has taken a little bit of a tumble. An outstanding interior player at the collegiate level, Brockers used his long branch-like arms and superb body control to rack up TFLs and hold his ground in double team scenarios. At 6'6" and 306lbs, he can play anywhere that has him with a hand in the dirt and has the build of an edge rusher, which is a role he could fill if he drops some weight and increases his speed. Brockers has a world of upside but will likely fall to the late-first round thanks to his discouraging performance at the combine. There's plenty of D-line need late in the first round and I wouldn't be surprised if a team like Carolina made a move up from the early-second round to snag him.
4. Devon Still, Senior – Penn St.
Another likely first round pick, Devon Still has the physically imposing figure to play all along the front-four at the next level. At 6'5" and 310lbs, Still can overpower interior linemen and has lengthy arms necessary to create separation when blitzing. His muscular frame is ideal for splitting double teams and working the inside shoulder of the tackle to make runs bounce further than designed.
Still had consistency problems in 2011, completely disappearing when the game didn't seem to be at risk. Although he may be an effective pass-rusher when it comes to pressuring the quarterback, he rarely finishes the job with a sack and he is unwilling to extend himself to try to block the passing lane. I see him more as an early-second round talent, but due to the deep need for DTs late in the first, Still will likely be selected slightly earlier than he should.
5. Kendall Reyes, Senior – UCONN
Though he may be a tad undersized at 6'4", Reyes makes up for his not-so-imposing build with unbelievable quickness and renowned athleticism. Clocking a 4.79 40-time at the Combine, Reyes still managed to pound out 36 bench reps and added impressive shuttle times to further bolster his rating. Although he doesn't necessarily have the physical tools to play an every-down 4-3 end, he can contribute as a pass rusher in obvious passing situations.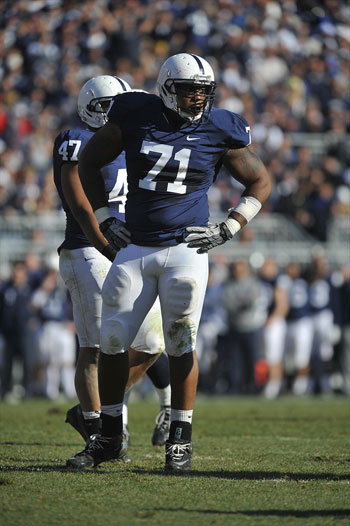 Reyes's true home will be playing DE in a 3-4 scheme. His explosive initial push and wide backfield vision make him a major threat in run defense, while his nonstop motor can continuously force opposing QBs to throw on the run and make quick decisions. Reyes should be an early-second rounder in this deep DT class.
6. Mike Martin, Senior – Michigan
Effort players are running deep in the class of 2012, and Mike Martin is no exception to the trend. Martin was a tackling machine at UM, flipping the switch and making hustle plays from sideline to sideline. After turning in one of the best games of his career in his final outing against Virginia Tech, some were considering the former state champion wrestler a dark horse first-round pick. In fact, if it weren't for his meager 6'2" frame, his fiery engine alone would be enough to earn him a spot on most Big Boards. I see Martin as strictly an interior player, and a mid-late second round pick.
7. Fletcher Cox, Junior – Mississippi St.
Cox is another one of this year's lanky specimens, more suited for athletic play laterally than a harsh commitment to the run game. Although this diminishes his value slightly, the upside his skillset offers in terms of versatility and special teams play is plentiful. Cox flew through a 4.79-second 40-yard dash at the Combine, leaving no questions about his quickness unanswered, and proving that he can be utilized at the 4-3 end spot if necessary. However, the most coveted trait that the All-SEC defensive lineman brings to the board his is phenomenal persistence in the kick-blocking game, which is precisely why we saw Jarvis Moss go 17th overall in 2007.
Cox has plenty of room to build muscle mass and doesn't appear to have finished growing yet, allowing his upside to flourish even more. However, he may struggle to contribute on the interior in his current shape and has some work to do before he can be an every-down player at the next level. He's been getting heavy looks from late-picking teams like New England and Green Bay, but I suspect he'll slip somewhere into the mid-second round.
8. Brandon Thompson, Senior – Clemson
This bulldozer-like middle-man made a name for himself by throwing aside blocks and making open-field tackles without assistance, a talent usually unseen along the defensive line. His physical dominance once engaged almost certainly stems from his power-hungry weight room work ethic. Reports are that Thompson drops a 450lb bench max, 615 on squat, and a 370lb power clean. From the sound of things, they might as well start to replace the weights in the Clemson training facility with washing machines and refrigerators.
At 6'2" and 310lbs, Thompson will be limited to the middle of the line, but his herculean strength will make him a prominent force in run-defense. Although he was a somewhat effective pass-rusher with the Tigers, his patty-cake handwork won't be good enough to help evade an NFL O-line, and his initial explosion into contact is somewhat lacking in substance. These deficiencies will prevent him from being a first round pick, but he has a bright future in this league nevertheless.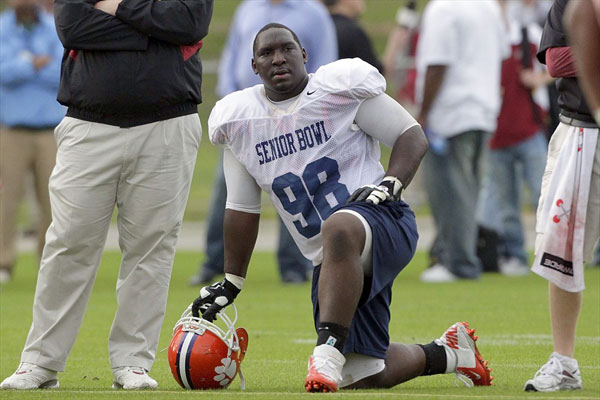 9. Marcus Forston, Junior – Miami
Here we see your prototypical DT, a 6'3", 305lb wrecking ball of a DT who has everything it takes to be an every-down player in the NFL. Forston generates a lot of push at the point of attack, allowing him to disengage laterally and track down tackles along the line of scrimmage. The former Parade All-American also displays undisturbed awareness and a phenomenal feel for the game, blowing up holes with little regard for his own personal achievement in order to stop short yardage runs. If it weren't for the non-contact knee injury that cost Forston the majority of his Junior season, I could see him going in the first round, but unfortunately the injury sets him back a bit and will leave an asterisk next to his name on NFL draft boards.
10. Jared Crick, Senior – Nebraska
Unbeatable quickness off the line and a seemingly endless supply of energy are just two of the traits that are going to make Crick a highly coveted recruit in the middle-rounds. After a standout Junior campaign where Crick recorded 70 tackles and 9.5 sacks, most scouts saw him as a surefire first round pick, being rather accessible in both a 3-4 and 4-3 scheme. His high-energy style of play makes him a dangerous pass-rusher both off the edge and on the interior, but I feel like his permanent home is going to be an end in a 3-4, where he can use his respectable size to neutralize one edge of the line of scrimmage.
Like Forston, Crick also suffered a significant injury during the 2011 season, which has had his draft stock slowly slipping into the mid rounds since October. Nevertheless, Crickhas the mentality to be very successful in the NFL if he's able to fully recover from his torn pectoral muscle.
Read More Article About: