Ranking the Pass Rushers in the 2012 NFL Draft
1. Courtney Upshaw, Senior – Alabama
This list kicks off with the MVP of the 2012 National Championship Game and the SEC's most feared presence behind the line-of-scrimmage, Courtney Upshaw. Using a decisive quickness at the point of attack, Upshaw was able to control the inside of opposing linemen with the help of his lengthy arms, propelling himself into playmaking position with the advantage in leverage that he had created.
Citing his versatility as his biggest asset, the 6'2", 265lb hybrid has the quickness and range to play upright in a 3-4 scheme, or put his hand in the dirt and rely on his ferocity to contribute as an every-down rush specialist as a 4-3 end.Upshaw's reputation as an un-guardable kink in his opponents' passing games is precisely what earned him All-American honors in 2011. Tallying 16.5 sacks throughout the course of his career, the man with the non-stop motor has his clock-like handwork, MMA physicality, and the quickness of a young Shawne Merriman to be thankful for en route to dictating the country's most successful defense. Upshaw's widespread skillset and experienced showmanship will make him a coveted figurehead come April 26th, and there's no reason to think he'll fall outside of the top-10.
2. Quinton Coples, Senior – North Carolina
A bruising force off the edge, UNC's hand-crafted lineman has the physique of a basketball player and the relentless desire for contact that you'd see in a seven-year old bumper car driver. His powerful arms could be mistaken for helicopter blades, chopping and punching with enough relentless force to leave opposing O-linemen watching him blow by with a clear view of the bottom of his cleats. Coples solidified his high status with an impressive Combine outing, tearing up the 40-yard dash in 4.78 seconds and proving his explosiveness with a 109-inch broad jump and 4-second shuttle time.
Although I see Coples strictly as a down lineman, his unique speed and power, together with his 6'6", 285lb frame, will allow him to wreak havoc at the next level. However, the two-time All-ACC selection (named to the team at both DT and DE) brings more to the game than just pressure; his focus and tight squeeze to the line-of-scrimmage make him a nightmare in run-defense as well, delving underneath pulling centers and guards to make plays at the point of attack. This guy is going to be getting a major contract in a few years.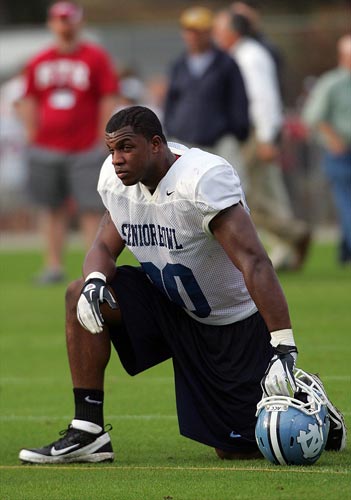 3. Melvin Ingram, Senior – South Carolina
Quick, instinctive, and athletically gifted, Ingram has been bolstering his draft stock since Week 2 of his Senior season, when he scored two awe-inspiring touchdowns against Georgia. Ingram's unheralded displays of anticipation and play awareness put him in the spotlight, but it's the intangibles that have him vying for a spot in the top-10 of April's draft. The 6'2", 265lb frame would suggest a 3-4 or 4-3 end, but the uncharacteristic quickness and knack for making plays around the ball will allow for a potential transition to outside linebacker, allowing the All-SEC honoree to lean on the versatility card in pre-draft evaluations.
Ingram did tend to disappear in some games, struggling to involve himself in the play from the backside and relying on his arms to make drag-tackles rather than creating impact then driving through with his full body weight. These lapses in basic technique may result in a minor slight on draft day, but his hustle, explosion, and the leverage advantages that come with his height aren't things that come in every draft class. Ingram should be a top-15 selection, but he does carry risks that could cause him to fall out of the top-20.
4. Whitney Mercilus, Junior – Illinois
2011 FBS sack leader, Whitney Mercilus, made a name for himself with his relentless pursuit of opposing quarterbacks, displaying disciplined quickness and containment skills while harassing some of the Big 10's most mobile passers. At 6'4" and 265lbs, there's no shortage of muscle mass to suggest a lack of versatility. Though he hits the edge with a bone-shattering force, his speed and near-immediate change-of-direction make him the ideal candidate for a move to outside linebacker.
In the run game, Mercilus's gunshot off the line allows him to get disruptive penetration and consistently make plays in the backfield, but he struggles splitting double teams and doesn't quite have the pure strength to get a push on larger linemen. However, once he puts himself in a playmaking position his ceiling is immeasurable, using his often risky ball-tackling to force an astounding 9 fumbles in 2011 alone. His knack for making plays on the ball reminds me a lot of Clay Matthews, and like Matthews I see him being selected in the mid-late first round.
5. Vinny Curry, Senior – Marshall
The 6'4", 265lb multi-dimensional head-hunter from Neptune, New Jersey is the first non-BCS representative on this list. Flashing a crafty inside step, Curry is able to beat opposing linemen off the ball and disrupt interior run plays with heroic ease. He does a great job staying lateral to the line-of-scrimmage, enabling the C-USA Defensive Player of the Year to squeeze under blocks and soil plays from the inside out. As a pass rusher, Curry brings a forceful blitz off the edge that even pro-ready tackles like Mike Adams and Matt McCants have struggled to slow. Equipped with an impressive array of chop, swim, and bull-rushing techniques, this young man's interchangeability makes him a threat to the quarterback on every down.
On the other end, Curry has never had much success battling double teams and, like Mercilus, is less than exceptional disengaging from man-on-man blocks. The fierce intensity that he brings to the field makes this athletic standout dangerous in any scenario and capable of running down ball-carriers even when he's beat on a play initially. The 4.64 speed is going to make him difficult to beat to the outside as well, as Curry's focused edge-containment allows him to force opposing runners to work the inside. Yet another first-round pick in this incredibly deep class of pass rushers, Vinny Curry is going to shine brightly in the league for a very long time.
6. Nick Perry, Junior – USC
Tall, lanky, and slightly inexperienced, the 2011 breakout rush specialist from Southern Cal has a ton of upside, but not much of a body of work to back it up. Perry topped off a 9.5 sack season with a 4.64 40-yard dash and 35 bench reps of 265lbs at the NFL Combine. His full-bodied structure makes him a rangy player, capable of being plugged in anywhere from a 4-3 defensive end to an inside linebacker. Combining plenty of raw power with a quick burst and never-quit attitude, Perry attracted plenty of blocking commitments at the collegiate level and was able to utilize his vast wingspan to secure tackles on change-of-direction plays. The 2011 All-Pac 12 selection should see the bulk of his NFL playing time at come OLB in a 3-4 scheme. Here, he'll be able to use his elite speed and open-field tackling skills to make an impact coming off the edge while avoiding most one-on-one blocking scenarios, which have proven troublesome for this hybrid player at times. Perry should be a late-first round pick, with New England, Green Bay, and Houston all looking like fine suitors.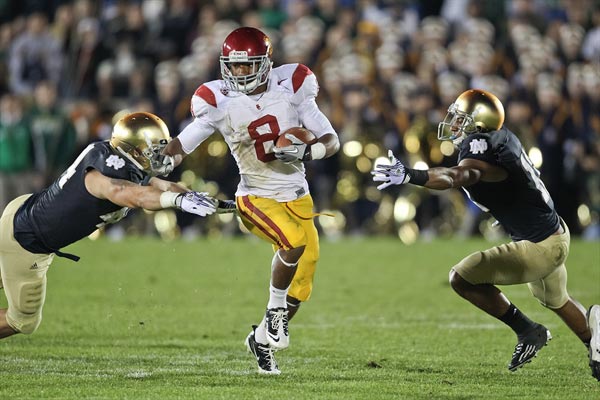 7. Chandler Jones, Senior – Syracuse
Brother of Ravens' DE Arthur Jones and UFC Light Heavyweight Champion Jon Jones, Chandler is part of an impressive pedigree of athletes. At 6'5" and 266lbs, Jones looks the part and brings all the essential tools that you'd like to find in an every-down left end at the next level. Armed with a punishing cutting arm, impressive lateral speed, and a forceful tackle that leaves many a ball-carrier on the trainer's examination table, the All-Big East selection appears to be fully ready to take on a starting role in the league. He has the size to take on larger blockers head-to-head, but isn't equipped to track down quicker QBs. Jones is a very good fit at a 4-3 end, but really doesn't have the body to play anywhere else, limiting his potential landing spots. Still, this guy should be an early-second rounder at the least.
8. Jake Bequette, Senior – Arkansas
With high-motor, never-say-never pass-rushers becoming all the rage in the past few years, the destructive and highly energetic talents of Jake Bequette are sure to be in high demand come April. Though he doesn't possess blazing speed or a brilliant array of moves designed to harass the quarterback, Bequette does work well out of multiple spots, thrashing relentlessly into the heart of developing plays. Not only does he take on double teams without hesitation, he also doesn't necessarily need space to make plays. The All-SEC selection is constantly found fighting through the whistle, often extending through bodies at the last second to latch onto a ball-carrier.
Bequette doesn't have the astounding physical attributes that you see in a lot of these top DE prospects, but his 6'5", 274lb body is more than healthy enough to step fittingly into an NFL starting spot. Once camp starts, Bequette is going to have to earn his way into a lineup through the same passionate work ethic that helped him record 23.5 sacks over the course of his career, but that shouldn't be a problem for a guy whose fierce style has drawn comparisons to that of Jared Allen.
9. Bruce Irvin, Senior – West Virginia
After running a jaw-dropping 4.5 second 40-yard dash at the Combine, Irvin has seen his stock rebound and I'm sure he's been getting plenty of workout opportunities with NFL scouts. Dangerously dressed with a calm and deadly first step, Irvin specializes in beating opponents off the ball to force early pressure. With a quick jab and an assortment of swim moves at his disposal, this lanky edge master has little trouble getting separation when attacking the tackle's outside shoulder.
It's the interior part of Irvin's rushing style that needs work. The skinny-standing sack machine isn't physically prepared to force his way through the inside of a line that averages 300lbs per body and his smooth handwork suddenly isn't so effective once he gets locked into a block. Nevertheless, Irvin knows how to bring down a quarterback, and with force I may add, tallying 14 sacks in 2010 alone. He plays the run and pass games with distinct differentiations, knowing when to lay down a big hit and when to use his long limbs to secure an easy tackle. We're looking at another mid-second rounder here.
10. Ronnell Lewis, Junior – Oklahoma
More fit to play OLB than his accustomed defensive end position in the NFL, Ronnell Lewis's well-leveraged body packs quite a punch in open-field contact. As a matter of fact, Lewis gained such a vicious reputation that his teammates started referring to him as "The Hammer" in honor of his knockout style of play. Like most linebackers, Lewis struggles to fight his way out of blocks, but demonstrates excellent acceleration and awareness in order to avoid them altogether. This patient hybrid rusher doesn't possess a lot of those fast-twitch muscle fibers that allow athletes to act on impulse, but he does show steady poise during the play's development, allowing him to be very effective in run-stoppage as well.
Please Read These Other Related Pages: