Ranking the Defensive Backs in the 2012 NFL Draft
1. Morris Claiborne, Junior – LSU
Grading strictly on potential, the Bayou Bengals' latest standout has the necessary attributes to be one of the rare shutdown corners at the next level. With a molded physical stature of 6'0" and 188lbs, Claiborne embellishes the ideal combination of size, wingspan, and upper-body strength to isolate elite receivers and force a battle within the five-yard bump-and-run cushion. He controls a zone as strictly as any corner to hit the board this decade, equally eyeing the short routes and potential for a scramble in his direction while maintaining the discipline to fight through stalk blocks and avoid misleading run-offs when an outside run is directed towards his edge.
The Thorpe Award winner's unhurried speed doesn't necessarily put him at any disadvantage, as he still managed to record a 4.50 second 40-time under the perception that he plays much faster than his measurables indicate. Preferring to man up with a touch-and-feel style of coverage, Claiborne can keep an eye in the backfield without losing track of speedier receivers, locating the ball in-air with relative ease. Much like LSU's last All-American DB, Patrick Peterson, Claiborne can be deceptively crafty once he gets his hands on the ball, dancing around less-mobile offenders while flipping the switch to a jet-like speed setting once he finds the open field. The chances of NFL stardom for this all-purpose All-American are high, and I can see him going as high as third overall come the 26th, and I can guarantee he won't fall past seven.
2. Mark Barron, Senior – Alabama
In my opinion, 'Bama's Mark Barron is the most underrated prospect in this class, being viewed by the general consensus as a late-first to early-second round pick. His widespread field vision and authoritative leadership, however, hold the prowess of a franchise-defining defensive leader. Barron plays the box with a commanding presence, filling holes with both the size (6'2"/213lbs) and fearlessness of an All-Pro linebacker. He can step up in coverage to neutralize short crossing routes, leaving receivers worrying more about how long they'll have to stay in a hospital bed if the ball comes their way than the catch itself.
You can also always rely on the most intimidating player on the nation's most intimidating defense to provide momentum plays when needed. Another prestigious All-American, Barron demonstrates flawless form tackling in angle pursuit and when tailing ball-carriers, but not hesitating to drop the boom on anyone brave (or foolish) enough to enter his zone with hopes of retaining consciousness. Because of the discipline of the Tide's ocean-deep secondary, Barron wasn't asked to take over many deep routes or match up head-to-head with any wideout that you could consider physically superior, so the lack of quality tape has left many questioning the purity of his coverage skills.
However, despite not partaking in the NFL Combine, reports are that Barron has clocked a 40-low of 4.47 seconds; more than quick enough to suggest that he's capable of taking over down-field routes in the league. The most serious fault that you must take into account when preparing to make Barron a high draft pick is the impact that his destructive style of play can have on his own body. A spotty injury record without any sure-fire insurance policy will have teams second-guessing taking this guy in the top-10, but with the amount of talent and experience that this warrior has under his belt, I'm confident that someone will be willing to live with the risk.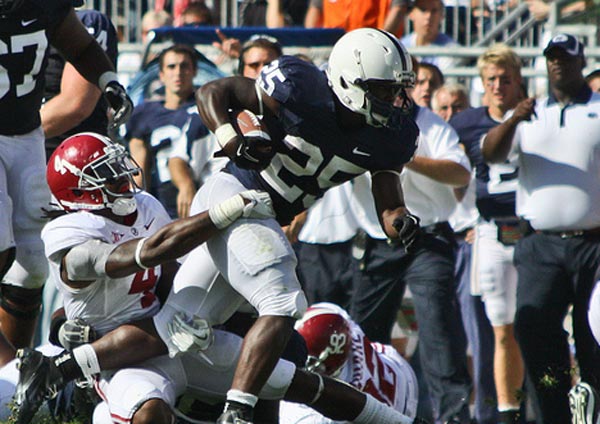 3. Dre Kirkpatrick, Junior – Alabama
Creating separation from the rest of the pack with his phenomenal special teams play, Kirkpatrick is yet another standout talent from the #1 pass defense in the nation. Preferring to get up close and personal with opposing receivers, this All-American isn't giving anybody anything both in man and bump-and-run coverage. His physical style of play off the snap earned him the distinct title of one of the NCAA's few shutdown corners. Although Kirkpatrick intercepted only three passes throughout his collegiate career, his ability to completely take a receiver out of the game was key in Alabama's title runs in 2009 and 2011.
Disciplinary issues, however, have been earning Kirkpatrick a bad rap as he was arrested on drug-related charges back in January. His zone skills could use a little honing, as he tackles well in the open field but often looks lost attempting to read plays and follow the motions of the quarterback. At 6'3" and 196lbs, the Thorpe Award finalist has the ideal size that coaches at the next level will be looking for, and should go in the mid-first round.
4. Janoris Jenkins, Senior – North Alabama
Once considered the most promising cornerback prospect in the country, mishaps and misdemeanors in the former UF star's personal life have delivered a major blow to his stock. Low-lights of his off-field incidences include a bar fight, two pot related arrests, and four ridiculously named children by three different women (you know he's cursing the new rookie wage scale). All of this aside, his play against top competition was nothing short of phenomenal, matching up handsomely with the likes of Alshon Jeffery, Julio Jones, and Pro-Bowler A.J. Green during his last season with the Gators in 2010.
Jenkins displays quick hips, soft hands, gripping tackling technique, and vast coverage skills, laying low like a viper in zone while failing to let receivers outrun him in strict man-to-man. The former Parade All-American recorded 121 tackles (9.5 for loss), 2 sacks, and 8 interceptions during his three year stay at Florida, reportedly impressed scouts greatly at the Senior Bowl, interviewed maturely at the Combine and showed no decrease in speed after clocking a 4.46 second 40-yard dash. Despite all his troubles, Jenkins still has all the makings of a first round pick, and I can see a team that has be known to overlook questionable character in the past such as Cincinnati or Tennessee taking a chance on the kid.
5. Markelle Martin, Senior – Oklahoma St.
A primetime performer who packs the crippling hits that leave un-expecting receivers in the dirt, this four-year letterman looks to make a splash in his pre-draft workouts and propel himself into first round viability. Known essentially for his supersonic closing speed, Martin keeps quarterbacks throwing cautiously, stepping in front of under thrown balls and laying into lingering receivers with the force of a Mack truck. At 6'1", 198lbs, he's seen more as a box safety with an intimidating (or in today's NFL, penalty drawing) style of play in short and medium zones.
Martin's slow backpedal and customary speed make him average-at-best in man coverage, but he can still neutralize tight ends and slot receivers without much difficulty, relying mainly on his quick and stunning tackling to damper opponents' passing games. A very versatile player, Martin can roam sideline-to-sideline to add support in run defense, weaving through blockers and wrapping justly to ultimately provide the presence of an extra linebacker on outside carries.
Martin's rare skillset and destructive hits will lead to a lot of intrigue on April 26, giving him a chance to be selected in the early-second round, if not earlier.
6. Harrison Smith, Senior – Notre Dame
Statistically, Harrison Smith is probably the most impressive DB in the class of 2012. Amassing 309 tackles over a four-year starting span, including 22.5 tackles for loss, Smith showed that he knows how to play to his size, providing a rugged force in the box and an additional blitzer when necessary. The 6'2", 213lb safety demonstrated plausible strength, using his long arms to stretch and reel in tackles that would be out of a normal player's reach. His 4.57 second 40-yard dash indicates a pure SS, acting almost solely as a run-support player where he can diagnose plays from the defensive backfield and step up where additional manpower is needed. Though considered more of a developmental athlete due to his dawdling hips and lack of recovery speed, the fifth-year Senior should still find a spot somewhere in the mid-second round.
7. Jayron Hosley, Junior – Va. Tech
At 5'10" and 178lbs, Hosley isn't exactly what you'd describe as an imposing cornerback, but his speedy play, nimble body control, and fine-tuned ball-hawking ability will make him a desirable asset in the upcoming month. Capable of bodying up with receivers who have him outclassed physically, the 2010 INT leader is far more well-rounded than most people give him credit for. He can man the edge in run support, employing a solid and fundamental tackling style where most men his size would rely on trip and side-tackles in order to safe their bodies. Unfortunately, playing bigger than your stature often has its consequences, as Hosley battled through a hamstring injury and concussion-like symptoms during most of his Junior year.
A strong performance against Michigan in the 2012 Orange Bowl has Hosley's stock on the rise once again, as he reminded scouts of his unique closing speed and ball-awareness. Occasionally, he'll get lost in the backfield and beaten on deep routes while trying to make a play that simply isn't there. The surprising lack of recovery speed is also a concern as his on-field discipline needs improvement.
8. Trumaine Johnson, Senior – Montana
Although he was a starting cornerback since he walked onto the University of Montana campus in 2008, this Walter Camp All-American's boastful size and desire for contact make him a likely candidate for a switch to safety at the next level. Probably the rawest secondary talent in this class, Johnson wowed scouts throughout his career with his receiver-like hands, instinctive knack for closing on the ball, and scoring capability after forcing a turnover.
Trumaine Johnson officially timed a 4.61 second 40-yard dash at the Combine, assuring his inability to line up at corner and match up with the NFL's elite receivers. However, his 35 inch vertical and 122 inch broad jump support the explosive style of play that we've seen on tape, and his ability to cover ground in order to move into play-making position on underneath routes is unusually primed for a player his age. We're looking at a guy who needs a lot of development, but it's a project that's worth a mid-third round pick at the least.
9. Stephon Gilmore, Junior – South Carolina
Equipped with the model size to match up with large receivers at the next level, Stephon Gilmore will be an immediate contributor in pass-defense for his new team. The combination of his 6'1" stature and 4.40 flat speed make him a rare specimen, capable of bumping receivers off routes with hard-enduring physicality, as well as making plays in jump-ball situations. While lacking in run support, flaunting a hurling tackling style and a reluctance to make contact at the abdominal level, the All-SEC selection specializes in taking away inside routes in the passing game, forcing wideouts to the boundary where fitting a pass over an athletic corner's head is easier said than done. Though clearly talented, I just can't see him in an every-down role in the NFL, thanks mostly to his struggles disengaging from blocks and sealing off the edge to force plays inside. Gilmore should be a late-second or early-third rounder, who will be a standout in five or six DB packages, taking responsibilities from the primary corner while nickel and dimebacks secure the edges.
10. Ryan Steed, Senior – Furman
Perhaps the most unsuspected draft crasher of the 2012 class, the Paladins' Ryan Steed made a splash at the Senior Bowl, playing with the fluency of a seasoned veteran and matching up squarely with any and every player he was asked to cover. Packing a powerful punch and feisty press off the snap, Steed's physical presence was noted with adoration by the scouts in attendance. Praised admirably for his work ethic by coaches on both the high school and collegiate level, Steed's name has been thrown around as a potential sleeper for the middle rounds. However, after battering and bruising ball-carriers and wideouts during Senior Bowl practices, he's earned enough second and third round consideration to be considered a top defensive back prospect on a lot of boards.
Steed is a bit jumpy at times, relying heavily on his anticipatory skills to try to make a big play, leaving the receivers he abandoned streaking. The FCS All-American also didn't measure well at the Combine, failing to post a sub 4.6 second 40-time and pounding out only 12 bench reps at 225lbs. Regardless, his stock is still at an all-time high for a non-BCS representative and will likely continue to rise as evaluation of his tape progresses, showing that he's much quicker and more explosive than his Combine results would indicate. A go-getting playmaker that fights through blockers with unheralded toughness and always seems to be around the ball, I'm sure Steed will find a home before Day-2 of the Draft concludes.
Other Articles Relevant to this Topic: